The Pope, the Pundits,

and the Wisdom of this World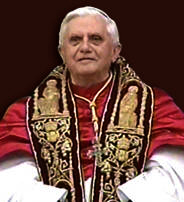 "The wisdom of this world is foolishness with God" (I Corinthians 3.19)


It is at least a little amusing to have watched, for some days now, the pundits, sages, priests and prophets being brought out by the various news originations to assess the aptitude of the man chosen by God for the job. Wise and perceptive — mostly apperceptive — some with many years, some with few, and all passing a learned judgment on the perspicacity of God. With a growing sense of bewilderment, and not a little consternation, they attempt to articulate the apparent folly that has been enacted before them. Their questions, by and large, can be summarized rather simply: "Has He done well, this God?" Has He chosen well, suitably — correctly.

Such terribly momentous questions call for terribly monumental minds, and so they are trooped out by the news anchors, and with an air of both erudition and perplexity ... and not a little inanity ... they attempt to second guess God and either repudiate or applaud His election. They will articulate their reasons why God has chosen poorly or well, and the reasons adduced are appropriately commensurable with their own disposition toward the Church. To say that their own attitude toward both God and the Church is most often transparently inimical is to utter the obvious.

In a sense, God has violated democracy. He has been heedless of the plebiscite of the learned, the scholars, the progressive clergy and the strident religious who are deficient in, or rueful of, their vocations. He has not heard – and therefore His Church has not heard — the voices crying out for divine ratification, for holy approbation, of abortion, homosexuality, condoms, contraception ... in short, He has been heedless of the cries against the perpetuation of life. This is unacceptably incorrect of God, and point by point they will enumerate His arrogance and folly. Who does He think He is, after all ... God?!

Well, yes. And that piques many who are not God – and the few who apparently deem themselves such, at least in the way of infallible judgment, very clearly resent the competition. And that the Church would collaborate in this audacity is clearly a sign that it is out of touch with men, women, whales, and time. But we are quite smug that we have known this all along. After all, being good democrats first, and Catholics second, we exercise our franchise rigorously, choosing what we will accept and obey, leaving the more stringent anomalies to the unenlightened "others" — you know, "the sheep" who "just follow" because, really, they do not know better or are less enlightened, less educated ... rather like the Apostles who followed Christ the Good Shepherd. And among them, who was the least enlightened? Peter! And whom has God now called to the shoes of the fisherman?

Of course, it eludes many, utterly, that God chose Abel over Cain, Joseph and not Benjamin, David over his elder brothers. Such behavior is not correct. Such choices are gratuitous, and seem arbitrary – running deeply against the grain of men. Look at Cain's response. And but for Judah and Ruben, the brothers of Joseph. When God does not act in a way that is pleasing to us, that accommodates our own sensibilities, we become indignant.

We cannot, however – and to the dismay of many – directly attack God. Like petulant children who have been deprived of their will, we set about to attack whom is closest to Him, much as a bully, unable to access his victim, settles for his little brother. We attack His Body the Church, the College of Cardinals, the Bishops. Such childish malice. And all the more malicious because it euphemistically masques itself as "progressive", "enlightened", "in touch" and above all, "tolerant" — however intolerant they be of God, Church, and the genuinely faithful.

Fortunately, God has chosen, and all our malcontent and irascible displeasure avails us nothing.

In the end, we are all fools. We do not know that we do not know. The path that Pope Benedict XVI will walk is traced by the finger of God, and perhaps the wisest admonition has already become axiomatic: "It is better to keep ones mouth shut and be thought a fool, than to open it and remove all doubt."

May Benedict's days be long and blessed ... for in the end, all our days are short and few.
Editor
Boston Catholic Journal