The Holy Rosary of the Most Blessed Virgin Mary
Prayed in English
Listen to the The Mysteries of the Holy Rosary or download them as Audio Files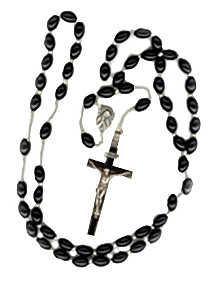 Dedicated to Mary, Auxilium Christianorum
the Most Holy Mother of God, Help of Christians, and the most perfect of all God's creation
The Holy Rosary is to be prayed — not simply recited. And so it is prayed here, not to the end of praying it as quickly as one can, but as thoughtfully and prayerfully as one can.
You will not "get through" the 5 Mysteries quickly in the Rosary prayed below. It is prayed as one speaking to another, as the soul speaks to God and to Mary ... who are listening. Very often, when we pray, is at a tempo that we would never use in speaking with a friend, let alone one beloved. Such conversations are an intimate sharing ... not rote recitations. Even if we repeat ourselves, it is with a new emphasis. Who ever tires of being told that they are loved? The words are the same but the moment is new. Only in a desperate parting are such words spoken quickly.
One single "Hail Mary" prayed from the heart is worth a thousand spoken only upon the lips. Yes, in prayer, especially repetitive prayer, our minds tend to wander, to drift away from the one to whom we are praying. This is our human frailty, and God understands this. It is our perseverance in prayer that matters, despite all distractions. Let us, then, as Saint Paul encourages us, "Pray without ceasing" (1 Thessalonians 5:17).

The Rosary consists of 3 Mysteries that are divided into 15 decades.
(NOTE: This is the Traditional Rosary. If you prefer the additional Luminous Mysteries added by John-Paul II in 2002 click here)
Listen to, and pray along with, each Mystery of the Holy Rosary of the Most Blessed Virgin Mary below — in its entirety below:
(audio only — no video)
---
Alternately you may wish to view the Mysteries in a VIDEO with TEXT as they are being prayed.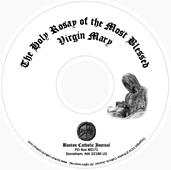 If you wish to have your own (free) CD of this Holy Rosary
please write us:
editor@boston-catholic-journal.com
To download any file, right-click on any underlined Mystery above and choose: "Save Link As ..." in Google Chrome or Mozilla Firefox or "Save Target as ..." in Microsoft Edge, and save it to your desktop. Copy it to a CD and listen to it while driving or working.
---
Also see:
Copyright © 2004 - 2021 Boston Catholic Journal. All rights reserved. Permission is granted by the Boston Catholic Journal for the copying and distribution of these audio files under the following conditions: No additions, deletions, or changes are to be made to the audio files in any way, and the copies may not be sold for a profit.
NOTA BENE: You are free to use any media that appears within the Boston Catholic Journal providing that any media through which it is presented in any way is duly respectful of the religious nature of the images, graphics, text, or audio files used. Under no conditions are such media to be used for sacrilegious purposes or to promote teachings, doctrines, or agenda in conflict with, or contradicting, the authentic teaching of the Magisterium of the Holy Catholic Church whose See is in Rome. Any such media whatever, including graphics, images, text, and audio files that are derived from the Boston Catholic Journal must not be sold for a profit, nor reproduced to the end of being sold for a profit. The Boston Catholic Journal must be credited as the source of any graphics, images, text, audio files, or other media that appear within the Boston Catholic Journal. We have found these stipulations necessary to prevent the abuse, or improper use, of these media to promote contempt for God and the Church — rather than promoting devotion to them.