Prayer to Saint Thomas Becket

Martyr

Archbishop of Canterbury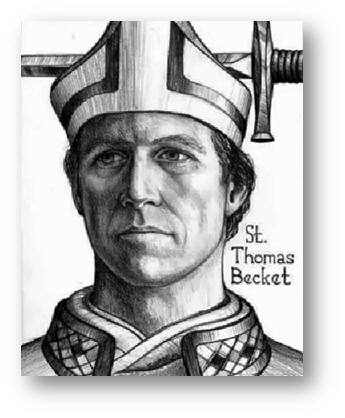 "For the Name of Jesus and the protection of the Church I am ready to embrace death."
Great Saint Thomas, Bishop, Priest, Martyr, and sacrificial lamb for the Faith, pray for us.
You who were a fearless Shepherd of the people of God, pray for us to have courage in all the circumstances of our lives, to living according to the light that your example gives to our consciences. May we be faithful unto death, as you were. May we always seek God's Holy will in our lives.
Saint Thomas, many were brought to you for healing both in your lifetime and especially after your martyrdom, please hear and accept my prayers for:
(Names)
We pray for the living and the dead:
(Names)
confident that you who now stand before Gods Holy Throne will intercede for us and draw us closer to Christ.
St Thomas pray for us that in Him, and With Him, we may live and move and have our being.
Amen.
Composed by a Poor Clare Cloistered Nun

Printable PDF Version