NOVENA TO SAINT JUDE
(Just click on the PDF below)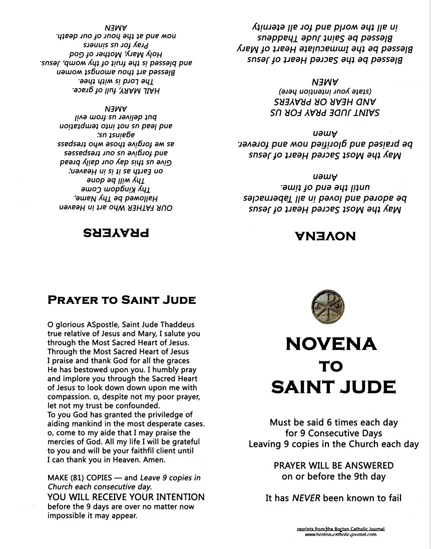 Instructions: It is simple:

Once the novena appears either print it or download it to save it


For the ENTIRE Novena you mustprint a total of (81) copies — 9 consecutive days of the novena and leaving 9 copies in Church each day = 81)


Fold the single sheet of paper twice to create a four-fold booklet with the Novena to Saint Jude


Please — Pray for us

Editor
Boston Catholic Journal
______________________________________
Dear Saint Jude,

Thank you for helping me! Thank you for making what was impossible for me, possible through your intercession: for helping me stop smoking — after decades of trying! I had tried everything throughout the years: cigarette-holder devices, patches, hypnosis, cold-turkey, everything! Even after a terrible injury when doctors told me that I absolutely had to stop smoking to allow enough blood to reach the injury to heal it, I couldn't!

Then my daughter and her husband downloaded this novena to you, and prayed it for me. I was touched by their love but really didn't think it could work "for me". Not me! Not after all these years.

Well, for the first time since I began smoking even before my teens--I have stopped! I would never have thought it was possible.

You ARE the Saint of the Impossible! Thank you for helping me. Thank you for praying for me. I really hope to thank you in person one day!

PK
PS: Dear Editor. I remember that you had to promise to publish that St. Jude helped you. Now we have the Internet. Thank you for publishing this, if you do!