---
of Christ

an Audio Book

---
---
---
Suggested Reading:

---

Learn your Faith through this free series of video presentations by
Dominican Friars

St. Thomas Institute

---

Pope Saint Pius V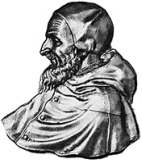 Pray for Holy Mother Church,
for heresies abound

---

Write us:
editor@boston-catholic-journal.com

Boston Catholic Journal

HOME
---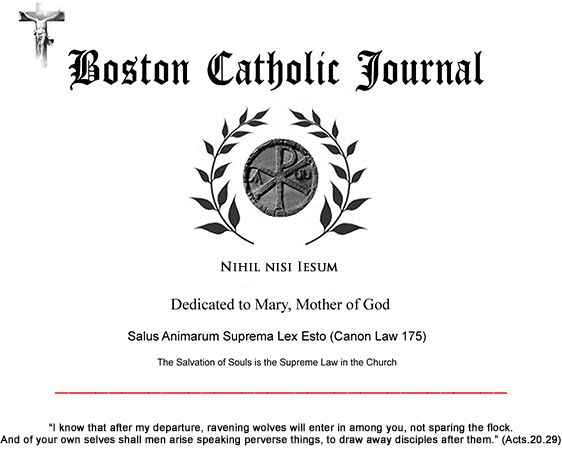 CRITICAL CATHOLIC COMMENTARY


in the Twilight of Reason
---



Mary, Conceived without Sin,
pray for us who have recourse to Thee
---
The Real Legacy of Vatican II:

and the Renewal that Became a Requiem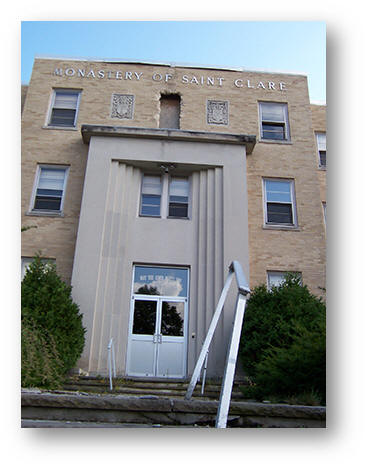 The Death of Two Monasteries in Andover, MA

A Pictorial History ... and a Sober Reminder

---
The Franciscan Seraphic Seminary and the Poor Clare Monastery

blankly face each other on a single street in Andover, Massachusetts

click on any image below to expand it
"Francis, repair My house
which, as you can see, has fallen into ruin
"

(the words of Jesus Christ to St. Francis of Assisi)
T
he magnificent Franciscan Seraphic Seminary and Monastery,
and the
Poor Clare Monastery
, faced each other across a quiet street in Andover, Massachusetts for more than 60 fruitful years.
The Franciscan Seminary was built around 1940, and the Poor Clare Monastery in 1959 — the same year that Pope John XXIII (on January 25, 1959) called for a general council of the Church; specifically, an "Aggiornamento"ť or "updating" of the Church in an effort to align it more closely with the "contemporary" cultural and social milieu of the 1960s. A more toxic decade could not possibly have been chosen.
The following brief pictorial history of two erstwhile thriving institutions once filled with vocations is a silent testimony that needs little comment.
The enormous Seraphic Seminary is now a "Retreat and Conference Center"ť for a variety of programs, virtually all of which are inter-denominational or altogether non-religious. A handful of people, almost all lay, staff the largely empty building. Not one Franciscan habit is seen by a visitor.
Across the street, the expansive and once lovely Poor Clare Monastery built in 1959 is in a state of complete abandonment and ruin. It is unoccupied. Not one Nun. A private investor has acquired the property for a commercial enterprise (which, as we see above, culminated in its being razed to the ground.)
It is a deeply disturbing pictorial, for on the plaque on the statue in the picture above, one sees a list of the names of benefactors (most of modest means) who had ultimately made a very poor investment in the very best of faith. We cannot avoid seeing a reflection of our own faltering faith and the catastrophic failure to authentically implement it in a world that the Conciliar Church embraced to such an extent that in many ways the two became virtually indistinguishable. The long conflict that historically characterized the tension between the spiritual demands of God and His Church and the competing demands of secular society became so attenuated following Vatican II that the distinction was largely meaningless in the way that men lived their lives. The sacred became an impediment to rapprochement with the world and was soon the most notable casualty in the conflict.
In less than two generations what was long held to be lofty, noble, and set apart for God (which is the very meaning of holiness) became ultimately mundane and tiresomely redundant. "The 'good life'" as the Church had understood it, and "'the good life'" as the world understood it — long mutually adversarial — had become comfortably reconciled — but only through the largess of the newly emergent "Church of the New Advent"ť which paid tribute to Caesar by refusing tribute to God.
Sacred places like the Seraphic Seminary and the Poor Clare Monastery once abounded. These sacred places were built, and thrived, on "the Faith of our fathers" but soon fell into ruin and emptiness through the futile attempt to articulate that faith on the terms of the world, in the mistaken belief that if we become like the world, the world will become like us. It calls us to question many things, troubling things, from a vision of "renewal" to the reality of vacancy; of the tremendous hemorrhage of vocations, and renounced vows following a terrible miscalculation, an astonishing misunderstanding in the breathless pursuit of contemporaneity, of accommodating the Church to the world, and finding, in the end, that not only have the seminaries and monasteries been emptied, but the pews as well.
The pictures speak for themselves.
We can only stand back in astonishment and ask — Who will rebuild the Church that St. Francis rebuilt ... and which we have let fall once again into ruin?
If we do not, no one will.
Geoffrey K. Mondello
Editor
Boston Catholic Journal

Printable PDF Version
Comments? Write us: editor@boston-catholic-journal.com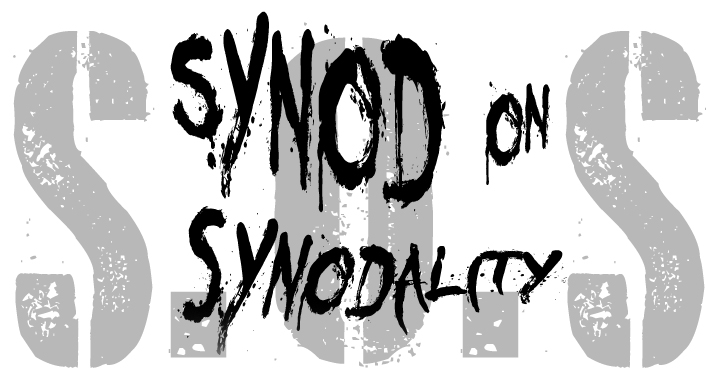 Part Three of three
What Constitutes a "Synod on Synodality"?
Never has one occurred before in the history of the Church. Think about that for a moment. While it is called a General Assembly of the Synod of Bishops — like every synod convened before it — its membership is far broader, including homosexual advocate Fr. James Martin, Sr. Jeannine Gramick, the co-founder of the Homosexual advocacy group New Ways Ministry (and three staff members, all of whom personally met with Francis for nearly an hour) homosexual advocates and Cardinals Cupich, Robert McElroy, Joseph Tobin, Mario Grech of Malta, Luis Antonio Tagle (Congregation for the Evangelization of Peoples), Kevin Farrell (Dicastery for Laity, Family, and Life.) and Leonardo Ulrich Steiner of Brazil.
It also included laywomen, laymen, as well as non-practicing Catholics and dissident Catholics — and each of their votes had exactly the same weight as that of cardinals. This is particularly worrisome given the systematic absence of catechesis in America and elsewhere since Vatican II. Lay Catholics who are even minimally aware of Church teaching, let alone knowledgeable about it, are few and far between. And in this Synod, they have an equal vote concerning things Catholic. This is worrisome. A uniformed vote is worse than no vote at all. Think about that, too. What are we left with?

Take a deep breath …
"A gathering of largely disaffected and poorly catechized Catholics — including bishops and cardinals — to discuss how the "oppressive structures" of the Catholic Church have been getting it all wrong for 2000 years, "lording it over" (wo)-man and environment; and how a good and loving God has kept us in darkness for two millennia until the epiphany of Francis dawned upon the aboriginal Amazonian awakening in 2013, leading an outdated, wayward, despotic, and totalitarian Church into the liberating and autoerotic ways of modern man, emancipating us, at long last, from our sinful, male-dominated, clerical and patriarchal ways to at last discern the hidden ways of God that He has lovingly and benevolently concealed from us from the creation of Adam, the proto-dominator of Eve and our Mother Earth — for two millennia — to the 266th papacy under Jorge-the-Walker-in-the-Way-of-Accompaniment, who, with real machismo, finally wrenched the truth out of a reluctant God Whom he routinely confuses with a once-upon-a-time-pagan female deity, Pachamama, who inhabits the inaccessible margins of correct aboriginal consciousness."
You can breathe now.
To understand this novel concept meaning anything and therefore nothing, we must brazenly delve into its absurdities without fear of contradiction (since the absence of reason and logic precludes any possibility of contradiction) — the better to explore this newest iteration of the Encounter Groups of the groovy 1960s in which its adherents were first schooled (Jorge was in his 20s then.)
Before we can understand the thoroughly novel concept of a "Synod on Synodality" — a kind of neologism that Francis made up on March 7, 2020
, and not to be confused with similar conferences such
as
"
seminars on seminars
"
or
"
meetings on meetings
," still less.
"
gatherings on gatherings
"
(all of which, of course, are blatantly absurd — and any of which no conscious individual would actually attend); in other words, before we can come to grips with this embarrassing symposium, we must first familiarize ourselves with its unique lexicon.
And how shall we acquire this? The "Letter to 'the people of God'" (i.e. absolutely everyone) explains this as a two-fold process: it is by:

"Using the Conversation in the Spirit Method"
(a what method?)
and being attentive to
"the watchful sentinel of the Spirit's call"
(a who watching what?)
No, we are not making this up (see: "Letter of the XVI Ordinary General Assembly of the Synod of Bishops to the People of God" paragraph 2)
What do either/both of these mean? We are not certain at all that they mean anything! But we will attempt to plumb these mysterious depths nonetheless as we continue to explore this madness unfolding in Rome.
Oh, yes! Some of the "Buzz Words" around which this "Synodal Process" is framed! It's a lot to unpack, but here goes:
"the Spirit" without the Holy

"ecclesial praxis"

"consensus"

"structures of ..."

"structurally"

"decision-making structures"

"walking together"

"synodal discernment"

"to journey together"

"lay ministries"

"people of God"

"women's ordination"

"indigenous"

"rights"

"victims"

"excluded"

"inclusion"

"homosexuality"

"oppressed"

"cries of the earth"

"the environment"

"racism"

"our common home"

"concreteness"

When you encounter any of these words, especially in a sentence including two or more, you have entered Ecclesiastical Wonderland and the person in white who is uttering them is not a Rabbit, but a madman.
See:
Geoffrey K. Mondello
Editor
Boston Catholic Journal

October 31, 2023
Vigil of All Saints
Comments? Write us: editor@boston-catholic-journal.com




Martyrology for Today
Semen est sanguis Christianorum (The blood of Christians is the seed of the Church) Tertullian, Apologeticum, 50
ROMAN MARTYROLOGY

Sunday December 5th in the Year of Grace 2023

This Day, the Fifth Day of December


At Mutala, in Cappadocia, St. Sabas, abbot, who was renowned in Palestine for admirable examples of sanctity. He labored courageously in defending the Catholic faith against those who attacked the holy Council of Chalcedon.

At Thebesta, in Africa, during the time of Diocletian and Maximian, St. Chrispina, a woman of the highest nobility, who refused to sacrifice to idols, and was beheaded by order of the proconsul Anolinus. Her praises are often celebrated by St. Augustine.

At Thagura, in Africa, the holy martyrs Julius, Potamia, Crispinus, Felix, Gratus, and seven others.

At Nicaea, near the river Var, St. Bassus, bishop. In the persecution of Decius and Valerian, he was tortured by the governor Perennius for the faith of Christ, burned with hot plates of metal, beaten with rods and whips garnished with pieces of iron, and thrown into the fire. Having come out of it unhurt, he was transfixed with two spikes, and thus terminated an illustrious martyrdom.

At Pavia, St. Dalmatius, bishop and martyr, who suffered in the persecution of Maximian.

At Pelino, in Abruzzo, St. Pelinus, bishop of Brindisi. Under Julian the Apostate, because by his prayers he caused a temple of Mars to fall to the ground, he was most severely scourged by the idolatrous priests, and being pierced with eighty-five wounds, merited the crown of martyrdom.
Also, St. Anastasius, martyr, who, thirsting for martyrdom, voluntarily offered himself to the persecutors.

At Treves, St. Nicetius, bishop, a man of great sanctity.

At Polybotum, in Asia, St. John, bishop, surnamed Wonder-worker.

And elsewhere in divers places, many other holy martyrs, confessors, and holy virgins.

Omnes sancti Mártyres, oráte pro nobis. ("All ye Holy Martyrs, pray for us", from the Litaniae Sanctorum, the Litany of the Saints)

Response: Thanks be
---

Roman Martyrology by Month
---


Why the Martyrs Matter


Each day we bring you a calendar, a list really, of the holy Martyrs who had suffered and died for Christ, for His Bride the Church, and for our holy Catholic Faith; men and women for whom — and well they knew — their Profession of Faith would cost them their lives.

They could have repudiated all three (Christ, Church, and Catholic Faith) and kept their lives for a short time longer (even the lapsi only postponed their death — and at so great a cost!)

What would motivate men, women, even children and entire families to willingly undergo the most evil and painfully devised tortures; to suffer death rather than denial?

Why did they not renounce their Catholic Faith when the first flame licked at their feet, after the first eye was plucked out, or after they were "baptized" in mockery by boiling water or molten lead poured over their heads? Why did they not flee to offer incense to the pagan gods since such a ritual concession would be merely perfunctory, having been done, after all, under duress, exacted by the compulsion of the state? What is a little burned incense and a few words uttered without conviction, compared to your own life and the lives of those you love? Surely God knows that you are merely placating the state with empty gestures …

Did they love their wives, husbands, children — their mothers, fathers and friends less than we do? Did they value their own lives less? Were they less sensitive to pain than we are? In a word, what did they possess that we do not?

Nothing. They possessed what we ourselves are given in the Sacrament of Confirmation — but cleaved to it in far greater measure than we do: Faith and faithfulness; fortitude and valor, uncompromising belief in the invincible reality of God, of life eternal in Him for the faithful, of damnation everlasting apart from Him for the unfaithful; of the ephemerality of this passing world and all within it, and lives lived in total accord with that adamant belief.

We are the Martyrs to come! What made them so will make us so. What they suffered we will suffer. What they died for, we will die for. If only we will! For most us, life will be a bloodless martyrdom, a suffering for Christ, for the sake of Christ, for the sake of the Church in a thousand ways outside the arena. The road to Heaven is lined on both sides with Crosses, and upon the Crosses people, people who suffered unknown to the world, but known to God. Catholics living in partibus infidelium, under the scourge of Islam. Loveless marriages. Injustices on all sides. Poverty. Illness. Old age. Dependency. They are the cruciform! Those whose lives became Crosses because they would not flee God, the Church, the call to, the demand for, holiness in the most ordinary things of life made extraordinary through the grace of God. The Martyrology we celebrate each day is just a vignette, a small, immeasurably small, sampling of the martyrdom that has been the lives of countless men and women whom Christ and the Angels know, but whom the world does not know.

"Exemplum enim dedi vobis", Christ said to His Apostles: "I have given you an example." And His Martyrs give one to us — and that is why the Martyrs matter.
A Martyr is one who suffers tortures and a violent death for the sake of Christ and the Catholic Faith.


A Confessor is one who confesses Christ publicly in times of persecution and who suffers torture, or severe punishment by secular authorities as a consequence. It is a title given only given to those who suffered for the Faith — but was not killed for it — and who had persevered in the Faith until the end.

Geoffrey K. Mondello
Editor
editor@boston-catholic-journal.com
Boston Catholic Journal
Note: We suggest that you explore our newly edited and revised "De SS. Martyrum Cruciatibus — The Torments and Tortures of the Christian Martyrs" for an in-depth historical account of the sufferings of the Martyrs.
---

Totally Faithful to the Sacred Deposit of Faith entrusted to the Holy See in Rome

"Scio opera tua ... quia modicum habes virtutem, et servasti verbum Meum, nec non negasti Nomen Meum"
"I know your works ... that you have but little power, and yet you have kept My word, and have not denied My Name." (Apocalypse 3.8)
Copyright © 2004 - 2023 Boston Catholic Journal. All rights reserved. Unless otherwise stated, permission is granted by the Boston Catholic Journal for the copying and distribution of the articles and audio files under the following conditions: No additions, deletions, or changes are to be made to the text or audio files in any way, and the copies may not be sold for a profit. In the reproduction, in any format of any image, graphic, text, or audio file, attribution must be given to the Boston Catholic Journal.