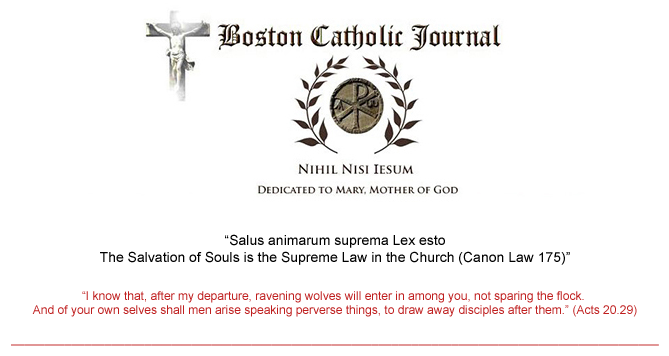 CRITICAL CATHOLIC COMMENTARY


in the Twilight of Reason
"That understanding of its sacred dogmas must be perpetually retained, which Holy Mother Church
once declared; and there must
never
be a recession
from that meaning
under the specious name of a deeper understanding
" (Blessed Pope Pius IX, 1st Vatican Council, S.3, C.2 on Revelation, 1870 ex cathedra)
---



Mary, Conceived without Sin,
pray for us who have recourse to Thee
---
The Greatest Pope that should have Been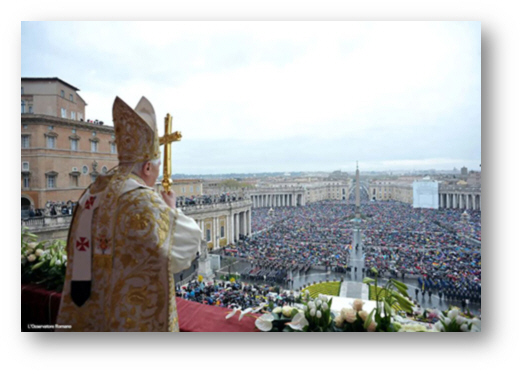 Pope Benedict was undoubtedly one of the great intellects and luminaries of our age — a brilliant mind only exceeded by his genuine humility. He embraced all his children ... in stark contrast to Francis who embraces only those who find favor with him, who share his ... ideology.
In this sense Pope Benedict XVI was a father to all his spiritual children. Gentle, kind, and courteous in a way foreign to this age; in this respect he was an exemplar to all of us.

This is not to say that his pontificate was flawless. On the one hand, he gave us the motus proprio Summorum Pontificum that restored to us the Mass of the Ages as it had been celebrated in Latin for 2000 years. That it had been torn from us in a fiat by Pope Paul VI and Vatican II was, in our estimation, tantamount to ecclesiastical suicide; if not, then at the very least a criminal and sectarian coup by Modernists.

Summorum Pontificum
Restoring what had been illegitimately taken from us was an act of justice. That it would later be torn from us yet again by Francis was an unconscionable act of pontifical pillage. It was unjust and remains unjust. But after the madness and the almost universal desecration of all things historically and intrinsically Catholic, it was for a brief time the restoration of sanity to the Mass. And how it thrived! But this was to the consternation of Francis ... who famously argued that his predecessors had failed to vigorously implement the effluence (no, not influence) of Vatican II, and that he alone

"had the humility and ambition to do so"

— failing to recognize that humility and ambition are not compatible.
The gift was great but not irrevocable.
What is more, Pope Benedict had fallen into the same ecumenical nonsense that his predecessor, Pope John Paul II, had fallen into on Oct. 27, 1986, as we witnessed, yet again, the pan-ecumenical scandal in Assisi on June 19, 2011.

Resignation
Two years later, we would be astounded to find that Pope Benedict had tendered his resignation from the papacy on February 11, 2013, and his subsequent — and never-before-conferred title as "pope-emeritus" — was both baffling and disheartening for many, many Catholics. To further confuse the faithful, he was still addressed as "Your Holiness" the title reserved for a reigning pontiff. For the first time is history since the Avignon papacy and the Great Western Schism in the 14th century when there were two claimants to the papacy, we apparently had two popes living in Rome. The confusion and disappointment was compounded each year — for 10 years — by Benedict's remaining a "pope-emeritus"; time he could have spent correcting the wayward course of the Church instead of abandoning it (and her children) to what he surely must have known would be a Modernist successor. And when that successor — Francis —emerged from the shadows of the dark logia there was, according to more than a few who witnessed it, an almost instinctual aversion to what appeared.
After many, many, episodes in which Francis found himself contradicting historical Church teaching — and Holy Scripture — and subsequently bringing scandal upon the Church, Benedict apparently did nothing to correct him; something many had seen as a dereliction of duty, especially in light of St. Paul's example in correcting St. Peter 1 when he failed to be forthright, and temporized with the Jews in Jerusalem 1. The only other pope in history to voluntarily abdicate the Seat of St. Peter was Pope Celestine V in 1294, over 700 years ago. In a word, it was unthinkable —and apart from Pope Celestine, unheard of.
Many see it, in some sense, as "Throwing the Church to the Lions" when she was most in need of defending. Pope Benedict certainly had the mental acuity, and, as we have seen, the physical stamina required by a Defensor Fidei (a Defender oif the Faith) but for reasons unknown to us, chose drop the sword and leave the arena.

Francis and Fixation: the Denouement
That his reckless successor (Francis) deliberately disdains to be called "the Vicar of Christ" — or even the "Patriarch of the West," says much about the concept of the "hermeneutic of continuity" so often bandied about in today's post-Modern Church. Instead, Francis chose to be listed merely as "the bishop of Rome" (in what Cardinal Gerhard Müller, called an act of "theological barbarism.)" in what is known as the Annuario Pontificio, as Catholic Culture pointed out. He eschews every identifiably Catholic title attached to all his predecessors, including "Successor of the Prince of the Apostles, Supreme Pontiff of the Universal Church, Primate of Italy, Archbishop and Metropolitan of the Roman province, Sovereign of the Vatican City-State." Why such a disdainful break with the pontifical history of the 265 popes before him? The Vatican's explanation is entirely in keeping with the present papacy, and the 4 papacies that preceded it? In their words, doing so "could prove useful to ecumenical dialogue." The much-vaunted notion of the concept of the "hermeneutic of continuity" (which purportedly connected the Church present with the Church past — and failed to do so) is, apparently, no longer in favor. "The pope? Oh, you mean the guy down the street?" It has become barbaric, indeed.
It may have been otherwise for the Church, but God in His inscrutable wisdom — which does, in fact, exceed our understanding — in His permissive will has allowed this. Even from a merely human perspective, we are deserving of Francis, a man after our own hearts and minds, ever cleaving more closely to the world ... and other things. We wanted holiness without sacrifice, a god conformed to our image and articulated in terms of the lowest common denominator — terms equally accessible to children and adults with cognitive impairment. We have dumbed down even Dumb. We wanted to sit in the pews with our arms lazily draped over the the back of the pew (or perhaps stroking the back of a loved one) as though only tolerating what was otherwise extraordinarily stupefying — because it was. We wanted to wear our athletic uniforms, our team-shirts, our shorts and "distressed" (torn-to-the-flesh) jeans to Mass because, after all, we are not there for God, but God is there for us ... and only at our leisure.
All this was a direct consequence of the perilous course that Vatican II would subsequently take; a course for which — in collaboration with the dissident theologians Rahner, Küng, Schillebeeckx, and de Lubac — then Father Ratzinger was also responsible as an influential and "progressive" Peritus, or Theological Consultant. Often in a business suit and tie, in many ways he embodied the Nouvelle Theologie (new theology) together with the failed project, Ressourcement ("a return to the sources") then in vogue, which attempted to "invigorate" what all five theologians saw as a stale Church in need of "updating." By the time he became pope, however, and well into the aftermath of Vatican II, he apparently glimpsed the devastation it wrought — but by then the horse was already out of the barn; indeed, as we have recounted, he had been instrumental, much earlier, in building the barn and opening the door.
In many ways, Joseph Ratzinger was the surpassing and ultimately heroic pope ... that should have been.
Requiem aeternam dona ei Domine, et lux perpetua luceat ei.
Amen

Geoffrey K. Mondello
Editor
Boston Catholic Journal
________________________________
1 Galatians. 2.11-15
---

20 Years ago, American Bishops were Warned ...

and did Nothing!






The Complicity of American Bishops and Cardinals in Promoting Homosexuality

within the Catholic Church and the Catholic Priesthood

---

The greatest scandal in Church History was first unleashed here in Boston, Massachusetts by the Boston Globe on January 6, 2002, at 5:50 p.m. In a headline on that date, the Boston Globe published "Church allowed abuse by priest for years".

It would soon be revealed — and is still being revealed today, 20 years later — that it was a pebble plucked out of the way of an unimaginably enormous avalanche that would have seismic proportions throughout the entire Catholic world. At that time the Globe had stumbled upon something morbidly, diabolically, concealed from the world — something loathsome, much like a maggot that thrives on decay.

The moral decay within the Church had started shortly before Vatican II and increased exponentially following it. It is a decay — a necrosis, really — that has infected the Body of Christ (which is the Church) so profoundly that for all appearances it is in terminal decline.

Following Vatican II (incontestably) the Church which had famously "flung open the windows" to the "modern world" ended up being consumed by it. The Church did not climb out of those windows to fulfill its mandate to evangelize and proselytize the world; instead the corrupt ideologies of the world swept into it and filled the void it left. It has not recovered the moral authority it wielded for millennia; rather, it has lost it entirely to the immoral agenda of the world which ended up proselytizing the Church. This has occurred to such an extent that the two are, in significant ways, indistinguishable.

---




---

The loss of Language — and other paradigms —


| | | |
| --- | --- | --- |
| | | |
| John XXIII | Kim-Il-Sung-and-Kim-Jong-Il | Paul VI |


in the Catholic Church


Every Jew knows how to pray in Hebrew in his Synagogue — just as every Muslim knows how to pray in Arabic in his Mosque.

... and every Catholic priest (and many laity) — for nearly 2000 years — once knew how to pray in Latin during the Most Holy Sacrifice of the Mass!

Both are essential idioms in their respective religions, although most Jews, like most Muslims, do not speak, or largely understand either language. Each is unique to, and are carefully preserved identifying markers both inseparable from, characteristic of, and exclusively pertaining to — their respective religions. Even Reform Jews know the Sh'ma Yisrael, just as the most culturally assimilated Muslim knows the Shahada.

It is important to understand that Arabic is only specific to Arabia and only 25 other countries throughout the entire world — and is not the lingua franca of other Muslim states. Hebrew is only specific to Israel and is not the native tongue of the Diaspora. We are agreed upon this, yes? The language of prayer is different from the language spoken outside the place of worship. Judaism clung to Hebrew. Islam clung to Arabic.

Why, then, has the Catholic Church jettisoned Latin as the language specific to prayer in collective, and often private worship?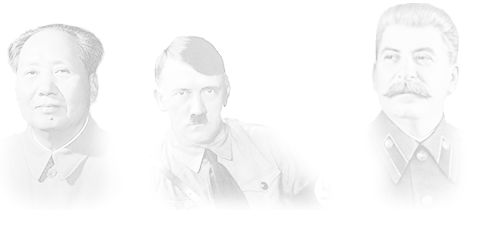 Are we All Children of God of... no matter what?
Jorge Bergoglio made the following statement in 2017 — and I think it is now time to revisit it in light of his peremptory agendum of unbridled Ecumenism — a heretical concept altogether ... prior to Vatican II — and which Francis frenetically promotes at the cost of authentic Catholicism. He asks — as though the question itself is altogether rhetorical:
"Is it possible God has some children He does not love? No! We are all God's beloved children." (pope Francis) 1

What is more troubling still, is that this question is, in fact, received by most post-Conciliar Catholics as merely rhetorical, that is to say, as though the answer is already understood in the asking — and that answer, of course, is a resounding: "yes — of course! After all, everyone goes to Heaven! The pope himself routinely tells us so!" — despite what Christ tells us about the
"hard and narrow" way to Heaven:
---
Martyrology for Today
Semen est sanguis Christianorum (The blood of Christians is the seed of the Church) Tertullian, Apologeticum, 50
ROMAN MARTYROLOGY

Saturday January 28th in the Year of Grace 2023

Time after Epiphany


This Day, the Twenty-Eighth Day of January


At Rome, the second feast of St. Agnes.

In the same place, St. Flavian, martyr, who suffered under Diocletian.

At Apollonia, the holy martyrs Thyrsus, Leucius, and Callinicus, who were made to undergo various torments in the time of the emperor Decius. Thyrsus and Callinicus consummated their martyrdom by being beheaded; Leucius, being called by a Heavenly voice, yielded his soul to God.

In Thebais, the holy martyrs Leonides and his companions, who obtained the palm of martyrdom in the time of Diocletian.

At Alexandria, the commemoration of many holy martyrs, who, whilst they were at Mass in the church on this day, were put to death in various manners by the followers of Syrian, an Arian general.

Also, St. Cyril, bishop of the same city, a most celebrated defender of the Catholic faith, who rested in peace with a great reputation for learning and sanctity.

At Saragossa, St. Valerius, bishop.

At Cuenca, in Spain, the birthday of St. Julian, bishop, who went to his God with the reputation of working miracles, after bestowing the goods of the Church on the poor, and, like the Apostles, supporting himself by the work of his hands.

In the monastery of Rheims, the demise of a holy priest named John, a man of God.

In Palestine, St. James, a hermit, who hid himself a long time in a sepulchre to do penance for a fault he had committed, and being celebrated for miracles, departed for Heaven.

And elsewhere in divers places, many other holy martyrs, confessors, and holy virgins.




Omnes sancti Mártyres, oráte pro nobis. ("All ye Holy Martyrs, pray for us", from the Litaniae Sanctorum, the Litany of the Saints)

℟ Thanks be to God.

---
"Semen est sanguis Christianorum" — Tertullian

Roman Martyrology by Month
---


Why the Martyrs Matter


Each day we bring you a calendar, a list really, of the holy Martyrs who had suffered and died for Christ, for His Bride the Church, and for our holy Catholic Faith; men and women for whom — and well they knew — their Profession of Faith would cost them their lives.

They could have repudiated all three (Christ, Church, and Catholic Faith) and kept their lives for a short time longer (even the lapsi only postponed their death — and at so great a cost!)

What would motivate men, women, even children and entire families to willingly undergo the most evil and painfully devised tortures; to suffer death rather than denial?

Why did they not renounce their Catholic Faith when the first flame licked at their feet, after the first eye was plucked out, or after they were "baptized" in mockery by boiling water or molten lead poured over their heads? Why did they not flee to offer incense to the pagan gods since such a ritual concession would be merely perfunctory, having been done, after all, under duress, exacted by the compulsion of the state? What is a little burned incense and a few words uttered without conviction, compared to your own life and the lives of those you love? Surely God knows that you are merely placating the state with empty gestures …

Did they love their wives, husbands, children — their mothers, fathers and friends less than we do? Did they value their own lives less? Were they less sensitive to pain than we are? In a word, what did they possess that we do not?

Nothing. They possessed what we ourselves are given in the Sacrament of Confirmation — but cleaved to it in far greater measure than we do: Faith and faithfulness; fortitude and valor, uncompromising belief in the invincible reality of God, of life eternal in Him for the faithful, of damnation everlasting apart from Him for the unfaithful; of the ephemerality of this passing world and all within it, and lives lived in total accord with that adamant belief.

We are the Martyrs to come! What made them so will make us so. What they suffered we will suffer. What they died for, we will die for. If only we will! For most us, life will be a bloodless martyrdom, a suffering for Christ, for the sake of Christ, for the sake of the Church in a thousand ways outside the arena. The road to Heaven is lined on both sides with Crosses, and upon the Crosses people, people who suffered unknown to the world, but known to God. Catholics living in partibus infidelium, under the scourge of Islam. Loveless marriages. Injustices on all sides. Poverty. Illness. Old age. Dependency. They are the cruciform! Those whose lives became Crosses because they would not flee God, the Church, the call to, the demand for, holiness in the most ordinary things of life made extraordinary through the grace of God. The Martyrology we celebrate each day is just a vignette, a small, immeasurably small, sampling of the martyrdom that has been the lives of countless men and women whom Christ and the Angels know, but whom the world does not know.

"Exemplum enim dedi vobis", Christ said to His Apostles: "I have given you an example." And His Martyrs give one to us — and that is why the Martyrs matter.


Geoffrey K. Mondello
Editor
editor@boston-catholic-journal.com
Boston Catholic Journal


Note: We suggest that you explore our newly edited and revised "De SS. Martyrum Cruciatibus — The Torments and Tortures of the Christian Martyrs" for an in-depth historical account of the sufferings of the Martyrs.
---
"Woe to the pastors, that destroy and tear the sheep of my pasture, says the Lord. Therefore thus says the Lord the God of Israel to the pastors that feed my people:
You have scattered my flock, and driven them away, and have not visited them: behold I will visit upon you for the evil of your doings, says the Lord." (Jeremiah 23.1-2)

Totally Faithful to the Sacred Deposit of Faith entrusted to the Holy See in Rome

"Scio opera tua ... quia modicum habes virtutem, et servasti verbum Meum, nec non negasti Nomen Meum"
"I know your works ... that you have but little power, and yet you have kept My word, and have not denied My Name." (Apocalypse 3.8)
Copyright © 2004 - 2023 Boston Catholic Journal. All rights reserved. Unless otherwise stated, permission is granted by the Boston Catholic Journal for the copying and distribution of the articles and audio files under the following conditions: No additions, deletions, or changes are to be made to the text or audio files in any way, and the copies may not be sold for a profit. In the reproduction, in any format of any image, graphic, text, or audio file, attribution must be given to the Boston Catholic Journal.