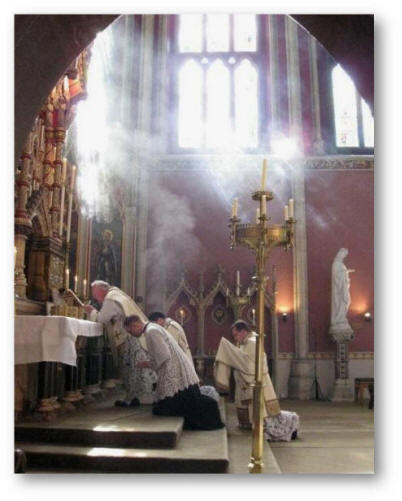 ---
The "AMAZONIAN FACE
"

of the

"

NEW CHURCH

...


of "Accompaniment",
Environmentalism,
Idolatry,
Bio-diversity,
and Secular Humanism"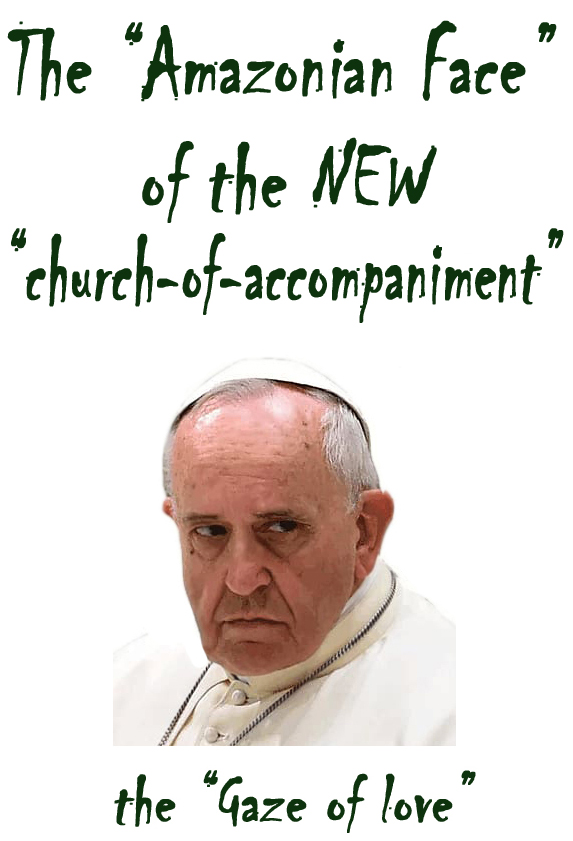 the
"Gaze of love"
Gives you the shivers, yes?
This is the "gaze of Love" — of which Francis effusively speaks in his defective, and often heretical, encyclical Laudato Si — "The Joy of Love" (given his insistence on abrogating the 6th Commandment, it is an appropriately salacious title).
Francis's critics, and those to whom he accords less than this "gaze of love", are quite familiar with it — especially those "rigid Catholics" whom he denigrates as suffering from "coprophilia, or arousal from excrement, and ... coprophagia, or eating excrement" http://www.boston-catholic-journal.com/carefully-crafted-bad-language-pope-francis-to-his-detractors.htm
But Francis can — and will — stoop to less in the upcoming Synod aptly called "Amazonia: New Paths for The Church and for an Integral Ecology." No, that is not a misprint: it is not "Integral Theology" — that would be nonsensical enough, but the pope and the Church clambering aboard the secular band-wagon of ecology?
Little wonder that among those personally invited by Francis are:

Pro-abortion, pro-lesbian/pro-gay/pro-bisexual/pro-transsexual ex-United Nations Secretary General Ban Ki-moon,


Pro-homosexual and left-wing propagandist Bishop Robert McElroy of San Diego


Renegade Cardinal Reinhard Marx of Germany


"Father" Eleazar López Hernández, Mexican liberation theologian and proponent of "indigenous Indian theology" — that has absolutely nothing to do with the Gospels.


Amazonized German Fathers ("we can discover God's Revelation among these indigenous peoples") "Father" Paulo Suess (right) with "Bishop" Krautler (who refuses to baptize anyone and proudly has not in 40 tears)






Jewish American ECONOMIST Jeffrey Sachs, who advocates abortion and Malthusian population control, and who was a key contributor to Laudato Si, Francis's Encyclical confusing environmentalism with worship.
(photo source: Remnant Newspaper)

Moon, Soros, Sachs

Last — but pre-eminent: Pachamama: the indispensible Amazonian pagan fertility god — ritually worshipped by priest, prelate, and pontiff alike in the Vatican Gardens at the close of the Pan-Amazon Synod. It was the logical and necessary conclusion of the"Ecumenism" of Vatican II: pantheism, paganism, earth-worship, nature worship, the primacy of "Aboriginal Wisdom", and listening to the earth rather than God.


While Ruth — the Great-Grandmother of David said "your God, will be my God" (Ruth 1.16) Francis, in clear, decisive, deference to pagan Amazonians — responds: "and your gods, will be my gods, too" .
Quite a tribe of themselves, yes?
A pro-everything (except Pro-Life) non-Catholic UN Secretary, Moon who at least hints at his own confusion: "To those who are gay, lesbian, bisexual,or transgender, let me say — you are not alone. ... decriminalize consensual same-sex relationships, ban discrimination and educate the public" — and whose attempts to state anything profound and memorable ("Terrorism is a threat to peace and security") do not quite attain to the Analects of Confucius ...
Bishop Robert McElroy insists that "Many times, our discussions in the life of the Church suggest that chastity has a singularly powerful role in determining our moral character, or our relationship with God. It does not." Hmmmm. The bishop, clearly, is no Biblical exegete. Moreover, consider the following, "We have to reflect upon the question as to how to assess in a differentiated manner a relationship between two homosexual persons," he says. "Is there not so much positive and good and right so that we have to be more just?"
Cardinal Reinhard Marx — oddly, much like Moon and McElroy — has an odd fixation on male genitalia: "If a same-sex couple are faithful, care for one another and intend to stay together for life God won't say 'All that doesn't interest me."
Father Eleazar López Hernández: Is an outspoken proponent of indigenous and pre-Christian "Indian Theology" (pagan spirituality) insistent on "nourishing in the faithful expectations contrary to the Magisterium and Tradition, as in the case of a permanent diaconate oriented towards a married priesthood."
Father Paulo Hess, it appears, has found no need for the Synoptic Gospels — or, far that matter, Sacred Scripture itself — which has been regressively "aufheben" or abolished by the — ready for this word? "aucthonomus" (a big word meaning nothing more than native, but sounding so much more learned!) religions and spiritualities that are held to have preceded Christianity itself — which is warrant enough to imply that it is more authentic in virtue of being presumably older (history and even historiography were not fields of study in Amazonian culture. Apart from oral tradition and crude artifacts there is no Amazonian history preceding Christianity which brought this reflexive concept with it. In this sense "aucthonomus" Egyptian religion circa 2050 B.C. with its polytheistic deities (including animals) is superior to divinely revealed and rationally articulated Christianity. Because it is older. Older = wiser = more authentic = "aucthonomus" which = native, which = older. Rather circular reasonong, but you get the point.
Jeffrey Sachs — an economist? — will likely be pontificating on a religion he does not believe in the way that Francis pontificates on economies he has no understanding of. It is a matter of competence which neither seems to grasp — to say nothing of widespread perception.
"It's the Ecology, Stupid!"
In a way reminiscent of Bill Clinton's famous mantra to his field workers, "It's the economy, stupid!" when his political machine swerved from the central issue in canvassing for the votes that he was sure would get him elected, the absence of moral credentials in those especially invited by Francis is quite beside the point. The "Pan-Amazon Synod" is not about morals. Still less is it about promoting Catholicism in a continent quickly being lost to Evangelical Protestants through the religious vacuum that resulted from the absence — and in Francis's case, the prohibition against — Catholic Missionary zeal since Vatican II. In this case "it's Ecumenism, stupid". But no one is listening. The planet must be saved! An ecological apocalypse is upon us — now! And the Amazon, we are told, has "the Lungs" even if the Catholic episcopate does not have "the Brains" to distinguish between socio-political flatus and a clearly distinguishable reality.

In what Gospel, we ask, did Christ proclaim that ecological mandate? Are endangered souls a concern to "the church" any longer ... or just endangered species and tribal affinities for a summum bonum understood as being "close to the earth" rather than close to God?
Must we now confess (were Confession acknowledged as a vital Sacrament since Vatican II) our "sins against Mother Earth, Sister Sun, and Brother Moon" — and will two of the three constitute ecological incest?! Perhaps that is the sin for which there is no forgiveness in the New church-of-Accompaniment that supplanted the Holy Catholic Church in 1969? — in addition, of course, to the "religious imperialism" that Catholic Missionaries in centuries past inflicted — oddly, at great cost to themselves — on this advanced culture — "with a perfectly good religion of their own"— notwithstanding human and animal sacrifice, the subjugation of women, and the enslavement of enemies with whom they warred ceaselessly.
In the meanwhile, let us strive to cultivate "the gaze of love" on all that moves upon the earth — except the Catholics who have kept the Faith against every persecutor in the "church" since 1960 — you know, the gaze that so suffuses the countenance of its principle proponent (see above). What's not to love?
___________________________
* Holy Mother the Catholic Church is completely opposed to Secular Humanism which embraces atheism, evolution, naturalism, religious and ethical relativism and which ascribes to no absolute moral code.
Geoffrey K. Mondello
Editor
Boston Catholic Journal
October 5, 2019



Printable PDF Version

Comments? Write us: editor@boston-catholic-journal.com
---
The REAL Goal

of the LGBT Movement is DIABOLICAL: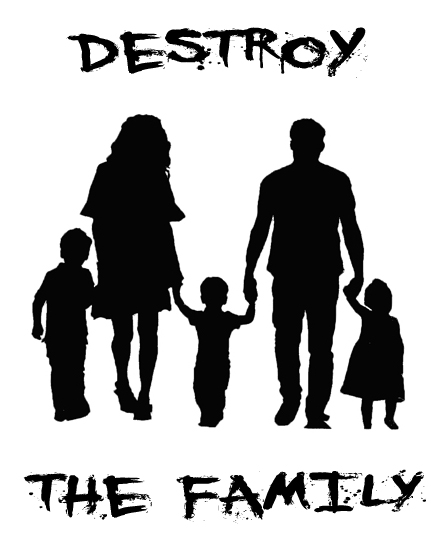 Why?
Just as Satan cannot create, but only mimic, imitate, in the LGBT Movement we find his (Satan's) effort to contrive a spurious — a completely counterfeit and totally perverse mockery — of the genuine family. It is a diabolical attempt to pass off what is a fiction for what is real — with the willing collaboration of a profoundly sexually and militantly perverse community.
But there is an impediment to this epic exploit in Western culture as it devolves into de-civilization and debauchery: the family.
As long as the nuclear family of husband, wife and children still remains intact, it is an indictment of the sterile sexual perversity that the LGBT fascists embrace and promote. It stands as an unassailable reproach to the counterfeit, for it is genuinely procreative and naturally perpetuates itself — as every other species has from the dawn of creation.
The family — one man and one woman, one husband and one wife, with children of their own flesh as the natural fruit of their marital love — exists naturally, not artificially. It is not the product of science, sociology, or legislation: indeed, without the traditional nuclear family as it has always been understood, mankind ineluctably ceases to be. It is the natural hedge against the delusional. Not all the artificial appurtenances, appendages, cosmetics, or clothing can so much as approximate this natural biological unit. However subtle science and surgery, elements of the counterfeit remain and invoke an instinctive revulsion to the artificially abnormal — it is inescapable! The most convincing robot engineered to virtually resemble a human being in every way — remains no more than that: a robot. Even if it is made by other robots, it never attains to being human. Ever.
Self-Loathing
No legislation or law that depraved man can implement or advocate to assuage the guilt of his perversity can ever be authentically internalized. However strident his social expression, however forceful the apparatus of the state, and despite every effort at pretension and dissemblance, the perverse is instinctively apperceived — and loathed.
It is a self-loathing so profound that it attempts to extinguish its own identity and become completely another. Not simply another gender, but another person — which is precisely what another gender is! It is someone apart from who one is; so much so that even the gender must be eradicated and artificially reassigned to its polar opposite. This is self-loathing.
A Mockery of the Holy Family: Jesus, Mary, and Saint Joseph
The devil, as it is said, is not simply in the details — but in the fabrication itself! In a word, it is diabolical. The devil has no gender, and no "skin in the game." That is why he can equally work both sides: male and female, pit them against each other, even against themselves, for whatever the aftermath, and however ugly, ultimately it is against God — and for Satan, a win! He mocks the Holy Family with the instigation of the unholy family of his fabrication: the homosexual "marriage". Playing into our own pride that we will determine what is good and what is evil — not God — he makes us masters of our own destruction.
Oh, yes, he finally gets the last laugh, too, telling us in our smug insolence that we are not pagan gods after all — that pride is his dominion, not ours in all our pretension. We can pathetically tell him to go to Hell, but it is extremely likely that he will only politely, if mordantly, reply: "after you!"
Geoffrey K. Mondello
Editor
Boston Catholic Journal
August 26, 2019



Printable PDF Version

Comments? Write us: editor@boston-catholic-journal.com
---



---
ROMAN MARTYROLOGY

Wednesday February 26th in the Year of Grace 2020
SEASON OF LENT
ASH WEDNESDAY

This Day, the Twenty-Sixth Day of February


At Pergen, in Pamphylia, during the persecution of Decius, the birthday of the blessed bishop Nestor, who, praying night and day for the preservation of the flock of Christ, was put under arrest. As he confessed the name of the Lord with great joy and freedom, he was most cruelly tortured on the rack, by order of the governor Pollio, and still courageously proclaiming that he would ever remain faithful to Christ, he was suspended on a cross; and thus triumphantly went to Heaven.

In the same place, the passion of Saints Papias, Diodorus, Conon, and Claudian, who preceded St. Nestor to martyrdom.

Also, the holy martyrs Fortunatus, Felix, and twenty-seven others.

At Alexandria, the bishop St. Alexander, an aged man held in great honor, who succeeded blessed Peter as bishop of that city. He expelled from the Church Arius, one of his priests, tainted with heretical impiety, and convicted by divine truth, and subsequently was one of the three hundred and eighteen Fathers who condemned him in the Council of Nicaea.

At Bologna, the bishop St. Faustinian, whose preaching strengthened and multiplied the faithful of that Church, which had been much afflicted during the persecution of Diocletian.

At Gaza, in Palestine, in the time of the emperor Arcadius, St. Porphyry, bishop, who overthrew the idol Marnas and its temple, and after many sufferings, went to rest in the Lord.

At Florence, St. Andrew, bishop and confessor.

In the territory of Arcis, St. Victor, confessor, whose eulogy was written by St. Bernard.
And elsewhere in divers places, many other holy martyrs, confessors, and holy virgins.


Omnes sancti Mártyres, oráte pro nobis. ("All ye Holy Martyrs, pray for us", from the Litaniae Sanctorum, the Litany of the Saints)
Response: Thanks be to God.

V2 = Enrolled prior to Vatican II and deleted after Vatican II
---

Roman Martyrology by Month
---


Why the Martyrs Matter


Each day we bring you a calendar, a list really, of the holy Martyrs who had suffered and died for Christ, for His Bride the Church, and for our holy Catholic Faith; men and women for whom — and well they knew — their Profession of Faith would cost them their lives.

They could have repudiated all three (Christ, Church, and Catholic Faith) and kept their lives for a short time longer (even the lapsi only postponed their death — and at so great a cost!).1

What would motivate men, women, even children and entire families to willingly undergo the most evil and painfully devised tortures; to suffer death rather than denial?

Why did they not renounce their Catholic Faith when the first flame licked at their feet, after the first eye was plucked out, or after they were "baptized" in mockery by boiling water or molten lead poured over their heads? Why did they not flee to offer incense to the pagan gods since such a ritual concession would be merely perfunctory, having been done, after all, under duress, exacted by the compulsion of the state? What is a little burned incense and a few words uttered without conviction, compared to your own life and the lives of those you love? Surely God knows that you are merely placating the state with empty gestures …

Did they love their wives, husbands, children — their mothers, fathers and friends less than we do? Did they value their own lives less? Were they less sensitive to pain than we are? In a word, what did they possess that we do not?

Nothing. They possessed what we ourselves are given in the Sacrament of Confirmation — but cleaved to it in far greater measure than we do: Faith and faithfulness; fortitude and valor, uncompromising belief in the invincible reality of God, of life eternal in Him for the faithful, of damnation everlasting apart from Him for the unfaithful; of the ephemerality of this passing world and all within it, and lives lived in total accord with that adamant belief.

We are the Martyrs to come. What made them so will make us so. What they suffered we will suffer. What they died for, we will die for. If only we will! For most us, life will be a bloodless martyrdom, a suffering for Christ, for the sake of Christ, for the sake of the Church in a thousand ways outside the arena. The road to Heaven is lined on both sides with Crosses, and upon the Crosses people, people who suffered unknown to the world, but known to God. Catholics living in partibus infidelium, under the scourge of Islam. Loveless marriages. Injustices on all sides. Poverty. Illness. Old age. Dependency. They are the cruciform! Those whose lives became Crosses because they would not flee God, the Church, the call to, the demand for, holiness in the most ordinary things of life made extraordinary through the grace of God. The Martyrology we celebrate each day is just a vignette, a small, immeasurably small, sampling of the martyrdom that has been the lives of countless men and women whom Christ and the Angels know, but whom the world does not know.

"Exemplum enim dedi vobis", Christ said to His Apostles: "I have given you an example." And His Martyrs give one to us — and that is why the Martyrs matter.


Geoffrey K. Mondello
Editor
editor@boston-catholic-journal.com
Boston Catholic Journal


Note: We suggest that you explore our newly edited and revised "De SS. Martyrum Cruciatibus — The Torments and Tortures of the Christian Martyrs" for an in-depth historical account of the sufferings of the Martyrs.
---


INTRODUCTION TO THE ROMAN MARTYROLOGY

By J. Cardinal Gibbons, Archbishop Baltimore


THE ROMAN MARTYROLOGY is an official and accredited record, on the pages of which are set forth in simple and brief, but impressive words, the glorious deeds of the Soldiers of Christ in all ages of the Church; of the illustrious Heroes and Heroines of the Cross, whom her solemn verdict has beatified or canonized. In making up this long roll of honor, the Church has been actuated by that instinctive wisdom with which the Spirit of God, who abides in her and teaches her all truth, has endowed her, and which permeates through and guides all her actions. She is the Spouse of Christ, without spot or wrinkle or blemish, wholly glorious and undefiled, whom He loved, for whom He died, and to whom He promised the Spirit of Truth, to comfort her in her dreary pilgrimage through this valley of tears, and to abide with her forever. She is one with Him in Spirit and in love, she is subject to Him in all things; she loves what He loves, she teaches and practices what He commands.

If the world has its "Legions of Honor", why should not also the Church of the Living God, the pillar and the ground of the truth? If men who have been stained with blood, and women who have been tainted with vice, have had their memory consecrated in prose and in verse, and monuments erected to their memory, because they exhibited extraordinary talents, achieved great success, or were, to a greater or less extent, benefactors of their race in the temporal order, which passeth away, why should not the true Heroes and Heroines of Jesus, who, imitating His example, have overcome themselves, risen superior to and trampled upon the world, have aspired, in all their thoughts, words, and actions, to a heavenly crown, and have moreover labored with disinterested zeal and self-forgetting love for the good of their fellow-men, have their memories likewise consecrated and embalmed in the minds and hearts of the people of God? If time have its heroes, why should not eternity; if man, why should not God? "Thy friends, O Lord, are exceedingly honored; their principality is exceedingly exalted." Whom His Father so dearly loved, the world crucified; whom the world neglects, despises, and crucifies, God, through His Church, exceedingly honors and exalts. Their praises are sung forth, with jubilation of heart, in the Church of God for ages on ages.

The wisdom of the Church of God in honoring her Saints is equaled only by the great utility of the practice thus consecrated. The Saints are not merely heroes; they are models. Christ lived in them, and Christ yet speaks through them. They were the living temples of the Holy Ghost, in whose mortal bodies dwelt all the riches of His wisdom and grace. They were in life consecrated human exemplars of divine excellence and perfection. Their example still appeals to our minds and to our hearts, more eloquently even than did their words to the men of their own generation, while they were in the tabernacle of the flesh. Though dead, they still speak. Their relics are instinct with sanctity, and through them they continue to breathe forth the sweet odor of Christ. The immortality into which they have entered still lingers in their bones, and seems to breathe in their mortal remains. As many an ardent, spirit has been induced to rush to the cannon's mouth by reading the exploits of earthly heroes, so many a generous Christian soul has been fired with heavenly ardor, and been impelled to rush to the crown of martyrdom, by reading the lives and heroic achievements of the Saints and Martyrs of Christ. Example, in its silent appeal, is more potent in its influence on the human heart and conduct than are words in their most eloquent utterances.
The Church knows and feels all this, in the Spirit of God with whom she is replenished ; and hence she sets forth, with holy joy and exultant hope, her bright and ever-increasing Calendar of Sanctity of just men and women made perfect and rendered glorious, under her unearthly and sublime teachings. In reading this roll of consecrated holiness, our instinctive conclusion is, precisely that which the great soul of St. Augustine reached at the very crisis of his life, the moment of his conversion "If other men like me have attained to such sanctity, why not I? Shall the poor, the afflicted, the despised of the World, bear away the palm of victory, the crown of immortality, while I lie buried in my sloth and dead in my sins, and thus lose the brilliant and glorious mansion already prepared for me in heaven? Shall all the gifts, which God has lavished upon me, be ingloriously spent and foolishly wasted, in the petty contest for this world's evanescent honors and riches, while the poor and contemned lay up treasures in heaven, and secure the prize of immortal glory? Shall others be the friends of God, whom He delights to honor, while I alone remain His enemy, and an alien from His blessed Kingdom?"

It is a consoling evidence of progress in the spiritual life in this country to find the Martyrology here published, for the first time, in English, and thereby made accessible, in its rich treasures of Sanctity, to all classes of our population. It will prove highly edifying and useful, not only to the members of our numerous religious Communities of both sexes, but also to the laity generally. Every day has here its record of Sanctity; and there is scarcely a Christian, no matter how lowly or how much occupied, who may not be able to daily peruse, with faith and with great profit, the brief page of each day's models of Holiness. These belong to all classes and callings of life; from the throne to the hovel, from the Pontiff to the lowest cleric, from the philosopher to the peasant, from the busy walks of life to the dreary wastes of the desert.

Let all, then, procure and read daily the appropriate portions of this Martyrology. Its daily and pious perusal will console us in affliction, will animate us in despondency, will make our souls glow with the love of God in coldness, and will lift up our minds and hearts from this dull and ever-changing earth to the bright and everlasting mansions prepared for us in Heaven!

Imprimatur, J. Cardinal Gibbons, Archbishop Baltimore, Maryland 1916
Printable PDF Version


---



THE APOSTOLIC CONSTITUTION

"

QUO PRIMUM "

(and what "Forever" really means)



"From the very first, upon Our elevation to the chief Apostleship, We gladly turned our mind and energies and directed all out thoughts to those matters which concerned the preservation of a pure liturgy, and We strove with God's help, by every means in our power, to accomplish this purpose. For, besides other decrees of the sacred Council of Trent, there were stipulations for Us to revise and re-edit the sacred books: the Catechism, the Missal and the Breviary. With the Catechism published for the instruction of the faithful, by God's help, and the Breviary thoroughly revised for the worthy praise of God, in order that the Missal and Breviary may be in perfect harmony, as fitting and proper — for it is most becoming that there be in the Church only one appropriate manner of reciting the Psalms and only one rite for the celebration of Mass — We deemed it necessary to give our immediate attention to what still remained to be done, viz, the re-editing of the Missal as soon as possible.

Hence, We decided to entrust this work to learned men of our selection. They very carefully collated all their work with the ancient codices in Our Vatican Library and with reliable, preserved or emended codices from elsewhere. Besides this, these men consulted the works of ancient and approved authors concerning the same sacred rites; and thus they have restored the Missal itself to the original form and rite of the holy Fathers. When this work has been gone over numerous times and further emended, after serious study and reflection, We commanded that the finished product be printed and published as soon as possible, so that all might enjoy the fruits of this labor; and thus, priests would know which prayers to use and which rites and ceremonies they were required to observe from now on in the celebration of Masses.

Let all everywhere adopt and observe what has been handed down by the Holy Roman Church, the Mother and Teacher of the other churches, and let Masses not be sung or read according to any other formula than that of this Missal published by Us. This ordinance applies henceforth, now, and forever, throughout all the provinces of the Christian world, to all patriarchs, cathedral churches, collegiate and parish churches, be they secular or religious, both of men and of women — even of military orders — and of churches or chapels without a specific congregation in which conventual Masses are sung aloud in choir or read privately in accord with the rites and customs of the Roman Church. This Missal is to be used by all churches, even by those which in their authorization are made exempt, whether by Apostolic indult, custom, or privilege, or even if by oath or official confirmation of the Holy See, or have their rights and faculties guaranteed to them by any other manner whatsoever.

This new rite alone is to be used unless approval of the practice of saying Mass differently was given at the very time of the institution and confirmation of the church by Apostolic See at least 200 years ago, or unless there has prevailed a custom of a similar kind which has been continuously followed for a period of not less than 200 years, in which most cases We in no wise rescind their above-mentioned prerogative or custom. However, if this Missal, which we have seen fit to publish, be more agreeable to these latter, We grant them permission to celebrate Mass according to its rite, provided they have the consent of their bishop or prelate or of their whole Chapter, everything else to the contrary notwithstanding.

All other of the churches referred to above, however, are hereby denied the use of other missals, which are to be discontinued entirely and absolutely; whereas, by this present Constitution, which will be valid henceforth, now, and forever, We order and enjoin that nothing must be added to Our recently published Missal, nothing omitted from it, nor anything whatsoever be changed within it under the penalty of Our displeasure.

We specifically command each and every patriarch, administrator, and all other persons or whatever ecclesiastical dignity they may be, be they even cardinals of the Holy Roman Church, or possessed of any other rank or pre-eminence, and We order them in virtue of holy obedience to chant or to read the Mass according to the rite and manner and norm herewith laid down by Us and, hereafter, to discontinue and completely discard all other rubrics and rites of other missals, however ancient, which they have customarily followed; and they must not in celebrating Mass presume to introduce any ceremonies or recite any prayers other than those contained in this Missal.

Furthermore, by these presents [this law], in virtue of Our Apostolic authority, We grant and concede in perpetuity that, for the chanting or reading of the Mass in any church whatsoever, this Missal is hereafter to be followed absolutely, without any scruple of conscience or fear of incurring any penalty, judgment, or censure, and may freely and lawfully be used. Nor are superiors, administrators, canons, chaplains, and other secular priests, or religious, of whatever title designated, obliged to celebrate the Mass otherwise than as enjoined by Us. We likewise declare and ordain that no one whosoever is forced or coerced to alter this Missal, and that this present document cannot be revoked or modified, but remains always valid and retain its full force notwithstanding the previous constitutions and decrees of the Holy See, as well as any general or special constitutions or edicts of provincial or synodal councils, and notwithstanding the practice and custom of the aforesaid churches, established by long and immemorial prescription — except, however, if more than two hundred years' standing.

It is Our will, therefore, and by the same authority, We decree that, after We publish this constitution and the edition of the Missal, the priests of the Roman Curia are, after thirty days, obliged to chant or read the Mass according to it; all others south of the Alps, after three months; and those beyond the Alps either within six months or whenever the Missal is available for sale. Wherefore, in order that the Missal be preserved incorrupt throughout the whole world and kept free of flaws and errors, the penalty for nonobservance for printers, whether mediately or immediately subject to Our dominion, and that of the Holy Roman Church, will be the forfeiting of their books and a fine of one hundred gold ducats, payable ipso facto to the Apostolic Treasury. Further, as for those located in other parts of the world, the penalty is excommunication latae sententiae, and such other penalties as may in Our judgment be imposed; and We decree by this law that they must not dare or presume either to print or to publish or to sell, or in any way to accept books of this nature without Our approval and consent, or without the express consent of the Apostolic Commissaries of those places, who will be appointed by Us. Said printer must receive a standard Missal and agree faithfully with it and in no wise vary from the Roman Missal of the large type (secundum magnum impressionem).

Accordingly, since it would be difficult for this present pronouncement to be sent to all parts of the Christian world and simultaneously come to light everywhere, We direct that it be, as usual, posted and published at the doors of the Basilica of the Prince of the Apostles, also at the Apostolic Chancery, and on the street at Campo Flora; furthermore, We direct that printed copies of this same edict signed by a notary public and made official by an ecclesiastical dignitary possess the same indubitable validity everywhere and in every nation, as if Our manuscript were shown there. Therefore, no one whosoever is permitted to alter this notice of Our permission, statute, ordinance, command, precept, grant, indult, declaration, will, decree, and prohibition. Should anyone dare to contravene it, know that he will incur the wrath of Almighty God and of the Blessed Apostles Peter and Paul."


Given at St. Peter's in the year of the Lord's Incarnation, 1570, on the 14th of July of the Fifth year of Our Pontificate.



Printable PDF Version