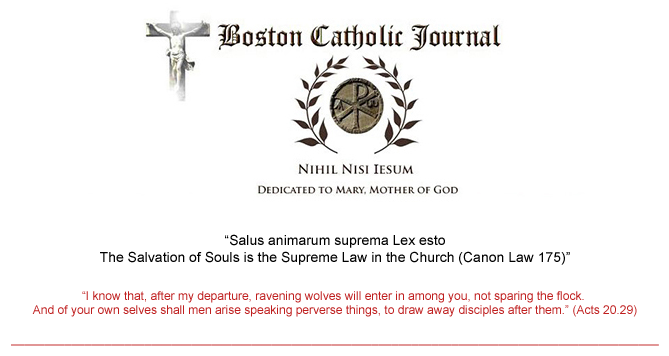 CRITICAL CATHOLIC COMMENTARY


in the Twilight of Reason
---



Martyrology for Today
Semen est sanguis Christianorum (The blood of Christians is the seed of the Church) Tertullian, Apologeticum, 50
---
"Semen est sanguis Christianorum" — Tertullian

Roman Martyrology by Month
---


Why the Martyrs Matter


Each day we bring you a calendar, a list really, of the holy Martyrs who had suffered and died for Christ, for His Bride the Church, and for our holy Catholic Faith; men and women for whom — and well they knew — their Profession of Faith would cost them their lives.

They could have repudiated all three (Christ, Church, and Catholic Faith) and kept their lives for a short time longer (even the lapsi only postponed their death — and at so great a cost!)

What would motivate men, women, even children and entire families to willingly undergo the most evil and painfully devised tortures; to suffer death rather than denial?

Why did they not renounce their Catholic Faith when the first flame licked at their feet, after the first eye was plucked out, or after they were "baptized" in mockery by boiling water or molten lead poured over their heads? Why did they not flee to offer incense to the pagan gods since such a ritual concession would be merely perfunctory, having been done, after all, under duress, exacted by the compulsion of the state? What is a little burned incense and a few words uttered without conviction, compared to your own life and the lives of those you love? Surely God knows that you are merely placating the state with empty gestures …

Did they love their wives, husbands, children — their mothers, fathers and friends less than we do? Did they value their own lives less? Were they less sensitive to pain than we are? In a word, what did they possess that we do not?

Nothing. They possessed what we ourselves are given in the Sacrament of Confirmation — but cleaved to it in far greater measure than we do: Faith and faithfulness; fortitude and valor, uncompromising belief in the invincible reality of God, of life eternal in Him for the faithful, of damnation everlasting apart from Him for the unfaithful; of the ephemerality of this passing world and all within it, and lives lived in total accord with that adamant belief.

We are the Martyrs to come! What made them so will make us so. What they suffered we will suffer. What they died for, we will die for. If only we will! For most us, life will be a bloodless martyrdom, a suffering for Christ, for the sake of Christ, for the sake of the Church in a thousand ways outside the arena. The road to Heaven is lined on both sides with Crosses, and upon the Crosses people, people who suffered unknown to the world, but known to God. Catholics living in partibus infidelium, under the scourge of Islam. Loveless marriages. Injustices on all sides. Poverty. Illness. Old age. Dependency. They are the cruciform! Those whose lives became Crosses because they would not flee God, the Church, the call to, the demand for, holiness in the most ordinary things of life made extraordinary through the grace of God. The Martyrology we celebrate each day is just a vignette, a small, immeasurably small, sampling of the martyrdom that has been the lives of countless men and women whom Christ and the Angels know, but whom the world does not know.

"Exemplum enim dedi vobis", Christ said to His Apostles: "I have given you an example." And His Martyrs give one to us — and that is why the Martyrs matter.
A Martyr is one who suffers tortures and a violent death for the sake of Christ and the Catholic Faith.


A Confessor is one who confesses Christ publicly in times of persecution and who suffers torture, or severe punishment by secular authorities as a consequence. It is a title given only given to those who suffered for the Faith — but was not killed for it — and who had persevered in the Faith until the end.

Geoffrey K. Mondello
Editor
editor@boston-catholic-journal.com
Boston Catholic Journal


Note: We suggest that you explore our newly edited and revised "De SS. Martyrum Cruciatibus — The Torments and Tortures of the Christian Martyrs" for an in-depth historical account of the sufferings of the Martyrs.