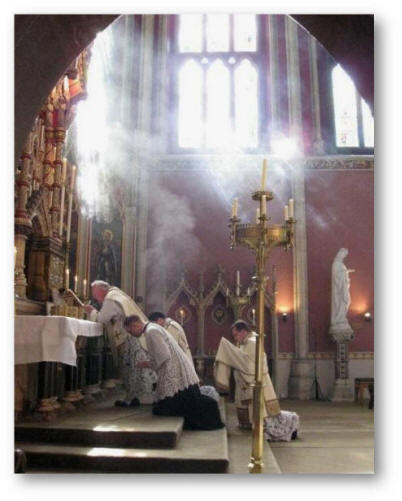 Home ... the One, True, Holy, Catholic Church

"

That understanding of its sacred dogmas must be perpetually retained

, which Holy Mother Church

once

declared; and there must

never

be a recession from that meaning under the specious name of a deeper understanding

"
(Blessed Pope Pius IX, 1st Vatican Council, S.3, C.2 on Revelation, 1870 ex cathedra)

____________________________________________________________
Archbishop Viganò's Stunning Indictment

of Vatican II and the Papacy of Francis


A Voice Crying out in the Wilderness



After 60 years of Wandering in the Desert of Heterodoxy, Heresy, and Apostasy — from your parish priest to the pseudo-papacy itself culminating in Jorge Bergoglio — we have finally heard one stentorian voice Crying Out in the Wilderness with a courage and resolution absent in the Episcopacy since 1962 when a council was convened ("Vatican II") to address problems that did not exist — apart from the One, True, Holy, Catholic, and Apostolic Church of 2000 years — which was an impediment to Modernism, described by Saint Pope Pius X as "The Synthesis of all Heresies".

The remedy to the non-existent illness was a carefully distilled poison in the form of heterodoxy, heresy, and apostasy which effectively cured the ailing patient by killing him and placing his corpse as a simulacrum of the Catholic Church until gradually, but ineluctably, the putrefaction became both inescapable, undeniable, and a poison itself to the living who increasingly distanced themselves from the rotting corpse. The flow of cadaverine was apparently clear but nauseating, and ultimately deadly. The time had come to admit that it was a dead thing and to finally bury the corpse — and replace it with a plastic mannequin.

Geoffrey K. Mondello
Editor
Boston Catholic Journal
July 5, 2020
________________________
THE MOST CRUCIAL EXCERPTS:

from the Letter of Archbishop Carlo Maria Viganò
9 June 2020
Saint Ephrem
Objections against the presumed legitimacy of the exercise of religious freedom that the Second Vatican Council theorized, contradicting the testimony of Sacred Scripture and the voice of Tradition, as well as the Catholic Magisterium which is the faithful guardian of both.


Attempts to correct the conciliar excesses – invoking the "hermeneutic of continuity" [parentheses added – ed.] – have proven unsuccessful


The Abu Dhabi Declaration – … its first symptoms in the pantheon of Assisi – "was conceived in the spirit of the Second Vatican Council" as Bergoglio proudly confirms.


This "spirit of the Council" is the license of legitimacy that the innovators use to oppose their critics


Never in the history of the Church has a Council presented itself as such a historic event that it was different from any other council: there was never talk of a "spirit of the Council of Nicea"


Councils were all, indiscriminately, the expression in unison of the voice of Holy Mother Church, and for this very reason the voice of Our Lord Jesus Christ.


Those who maintain the novelty of Vatican II also adhere to the heretical doctrine that places the God of the Old Testament in opposition to the God of the New Testament, as if there could be contradiction between the Divine Persons of the Most Holy Trinity.


Doctrinal errors almost always betray some sort of Trinitarian heresy, and thus it is by returning to the proclamation of Trinitarian dogma that the doctrines that oppose it can be defeated.


Bishop Athanasius comments: "One may rightly hope and believe that a future Pope or Ecumenical Council will correct the erroneous statement made" by Vatican II. This appears to me to be an argument that, although made with the best of intentions, undermines the Catholic edifice from its foundation. If in fact we admit that there may be Magisterial acts that, due to a changed sensitivity, are susceptible to abrogation, modification, or different interpretation with the passage of time, we inevitably fall under the condemnation of the Decree Lamentabili.


Doctrinal errors on the part of the faithful, something which instead has occurred only with the most recent Council. And when in the course of history various heresies spread, the Church always intervened promptly to condemn them, as happened at the time of the Synod of Pistoia in 1786, which was in some way anticipatory of Vatican II, especially

Ø Where it abolished Communion outside of Mass,

Ø introduced the vernacular tongue, and

Ø abolished the prayers of the Canon said submissa voce; but even more so when

Ø it theorized about the basis of episcopal collegiality, reducing the primacy of the pope to a mere ministerial function. Re-reading the acts of that Synod leaves us amazed at the literal formulation of the same errors that we find later, in increased form, in the Council presided over by John XXIII and Paul VI. On the other hand, just as the Truth comes from God, so error is fed by and feeds on the Adversary, who hates the Church of Christ and her heart: the Holy Mass and the Most Holy Eucharist.


There comes a moment in our life when, through the disposition of Providence, we are faced with a decisive choice for the future of the Church and for our eternal salvation. I speak of the choice between understanding the error into which practically all of us have fallen, almost always without evil intentions, and wanting to continue to look the other way or justify ourselves.


Together with numerous Council Fathers, we thought of ecumenism as a process, an invitation that calls dissidents to the one Church of Christ, idolaters and pagans to the one True God, and the Jewish people to the promised Messiah. But from the moment it was theorized in the conciliar commissions, ecumenism was configured in a way that was in direct opposition to the doctrine previously expressed by the Magisterium.


We have thought that certain excesses were only an exaggeration of those who allowed themselves to be swept up in enthusiasm for novelty; we sincerely believed that seeing John Paul II surrounded by charmers-healers, Buddhist monks, imams, rabbis, protestant pastors and other heretics gave proof of the Church's ability to summon people together in order to ask God for peace, while the authoritative example of this action initiated a deviant succession of pantheons that were more or less official, even to the point of seeing Bishops carrying the unclean idol of the pachamama on their shoulders, sacrilegiously concealed under the pretext of being a representation of sacred motherhood.


Numerous practicing Catholics, and perhaps also a majority of Catholic clergy, are today convinced that the Catholic Faith is no longer necessary for eternal salvation; they believe that the One and Triune God revealed to our fathers is the same as the god of Mohammed.


We know well that, invoking the saying in Scripture Littera enim occidit, spiritus autem vivificat ["The letter brings death, but the spirit gives life" (2 Corinthians 3:6), the progressives and modernists astutely knew how to hide equivocal expressions in the Conciliar texts, which at the time appeared harmless to most but that today are revealed in their subversive value.


It is the method employed in the use of the phrase subsistit in: saying a half-truth not so much as not to offend the interlocutor (assuming that is licit to silence the truth of God out of respect for His creature), but with the intention of being able to use the half-error that would be instantly dispelled if the entire truth were proclaimed. Thus "Ecclesia Christi subsistit in Ecclesia Catholica" does not specify the identity of the two, but the subsistence of one in the other and, for consistency, also in other churches: here is the opening to interconfessional celebrations, ecumenical prayers, and the inevitable end of any need for the Church in the order of salvation, in her unicity, and in her missionary nature.


Today we hear the surahs of the Koran recited from the pulpits of our churches, we see an idol of wood adored by religious sisters and brothers, we hear Bishops disavow what up until yesterday seemed to us to be the most plausible excuses of so many extremisms. What the world wants, at the instigation of Masonry and its infernal tentacles, is to create a universal religion that is humanitarian and ecumenical, from which the jealous God Whom we adore is banished.


The hopes of the Tower of Babel cannot be brought back to life by a globalist plan that has as its goal the cancellation of the Catholic Church, in order to replace it with a confederation of idolaters and heretics united by environmentalism and universal brotherhood. There can be no brotherhood except in Christ, and only in Christ: qui non est mecum, contra me est. ["Who is not with Me is against Me", Saint Luke 11.23 – ed.]


Few realize the responsibility of the highest levels of the Church in supporting these anti-Christian ideologies, as if the Church's leaders want to guarantee that they have a place and a role on the bandwagon of aligned thought.

Ø If the pachamama could be adored in a church, we owe it to Dignitatis Humanae.

Ø If we have a liturgy that is Protestantized and at times even paganized, we owe it to the revolutionary action of Msgr. Annibale Bugnini and to the post-conciliar reforms.

Ø If the Abu Dhabi Declaration was signed, we owe it to Nostra Aetate.

Ø If we have come to the point of delegating decisions to the Bishops' Conferences – even in grave violation of the Concordat, as happened in Italy – we owe it to collegiality, and to its updated version, synodality.


Thanks to synodality, we found ourselves with Amoris Laetitia


The Council was used to legitimize the most aberrant doctrinal deviations, the most daring liturgical innovations, and the most unscrupulous abuses, all while Authority remained silent.


This Council was so exalted that it was presented as the only legitimate reference for Catholics, clergy, and bishops, obscuring and connoting with a sense of contempt the doctrine that the Church had always authoritatively taught, and prohibiting the perennial liturgy that for millennia had nourished the faith of an uninterrupted line of faithful, martyrs, and saints.


Among other things, this Council has proven to be the only one that has caused so many interpretative problems and so many contradictions with respect to the preceding Magisterium, while there is not one other council – from the Council of Jerusalem to Vatican I – that does not harmonize perfectly with the entire Magisterium or that needs so much interpretation.


Many people, including myself, did not initially consider the possibility that there could be a conflict between obedience to an order of the Hierarchy and fidelity to the Church herself. What made tangible this unnatural, indeed I would even say perverse, separation between the Hierarchy and the Church, between obedience and fidelity, was certainly this most recent Pontificate.


In the "Room of Tears" … the "newly elected" Pope, Bergoglio exclaimed: "Sono finite le carnevalate! [The carnivals are over!]," scornfully refusing the insignia that all the Popes up until then had humbly accepted as the distinguishing garb of the Vicar of Christ. … the conspirators, were finally free of the inconvenient presence of Benedict XVI and brazenly proud of having finally succeeded in promoting a Cardinal who embodied their ideals, their way of revolutionizing the Church, of making doctrine malleable, morals adaptable, liturgy adulterable, and discipline disposable. And all this was considered, by the protagonists of the conspiracy themselves, the logical consequence and obvious application of Vatican II.


It is no accident that Bergoglio's supporters are the same people who saw the Council as the first event of a new church, prior to which there was an old religion with an old liturgy.


It is undeniable that from Vatican II onwards a parallel church was built, superimposed over and diametrically opposed to the true Church of Christ. This parallel church progressively obscured the divine institution founded by Our Lord in order to replace it with a spurious entity, corresponding to the desired universal religion that was first theorized by Masonry. Expressions like new humanism, universal fraternity, dignity of man, are the watchwords of philanthropic humanitarianism which denies the true God, of horizontal solidarity of vague spiritualist inspiration and of ecumenical irenism that the Church unequivocally condemns.


What we have for years heard enunciated, vaguely and without clear connotations, from the highest Throne, we then find elaborated in a true and proper manifesto in the supporters of the present Pontificate:

Ø the democratization of the Church, no longer through the collegiality invented by Vatican II but by the synodal path inaugurated by the Synod on the Family;

Ø the demolition of the ministerial priesthood through its weakening with exceptions to ecclesiastical celibacy and

Ø the introduction of feminine figures with quasi-sacerdotal duties; the silent passage from ecumenism directed towards separated brethren to

Ø a form of pan-ecumenism that reduces the Truth of the One Triune God to the level of idolatries and the most infernal superstitions;

Ø the acceptance of an interreligious dialogue that presupposes religious relativism and excludes missionary proclamation;

Ø the demythologization of the Papacy, pursued by Bergoglio as a theme of his pontificate;

Ø the progressive legitimization of all that is politically correct:

Ø gender theory, sodomy, homosexual marriage, Malthusian doctrines, ecologism, immigrationism... If we do not recognize that the roots of these deviations are found in the principles laid down by the Council, it will be impossible to find a cure.


For decades we have been led into error, in good faith, by people who, established in authority, have not known how to watch over and guard the flock of Christ: some for the sake of living quietly, some because of having too many commitments, some out of convenience, and finally some in bad faith or even malicious intent. These last ones who have betrayed the Church must be identified, taken aside, invited to amend and, if they do not repent they must be expelled from the sacred enclosure. This is how a true Shepherd acts, who has the well-being of the sheep at heart and who gives his life for them; we have had and still have far too many mercenaries, for whom the consent of the enemies of Christ is more important than fidelity to his Spouse.


Just as I honestly and serenely obeyed questionable orders sixty years ago, believing that they represented the loving voice of the Church, so today with equal serenity and honesty I recognize that I have been deceived. Being coherent today by persevering in error would represent a wretched choice and would make me an accomplice in this fraud.


In these last few years even the most ingenuous among us have understood:

Ø silence for fear of causing a schism,

Ø the effort to repair papal documents in a Catholic sense in order to remedy their intended ambiguity,

Ø the appeals and dubia made to Francis that remained eloquently unanswered, are all a confirmation of the situation of

Ø the most serious apostasy to which the highest levels of the Hierarchy are exposed, while the Christian people and the clergy feel hopelessly abandoned and that they are regarded by the bishops almost with annoyance.


Whoever has the grace of being a Child of God in virtue of Holy Baptism should be horrified at the idea of being able to construct a blasphemous modern version of the Tower of Babel, seeking to bring together the one true Church of Christ, heir to the promises made to the Chosen People, with those who deny the Messiah and with those who consider the very idea of a Triune God to be blasphemous [Muslims – ed.].

• We know well that the purpose of these ecumenical and interreligious initiatives is not to convert those who are far from the one Church to Christ, but to divert and corrupt those who still hold the Catholic Faith, leading them to believe that it is desirable to have a great universal religion.


Last Sunday, the Church celebrated the Most Holy Trinity, and in the Breviary it offers us the recitation of the Symbolum Athanasianum [Athanasian Creed – ed.], now outlawed by the conciliar liturgy and already reduced to only two occasions in the liturgical reform of 1962.

Ø The first words of that now-disappeared Symbolum remain inscribed in letters of gold: "Quicumque vult salvus esse, ante omnia opus est ut teneat Catholicam fidem; quam nisi quisque integram inviolatamque servaverit, absque dubio in aeternum peribit" – "Whosoever wishes to be saved, before all things it is necessary that he hold the Catholic faith; For unless a person shall have kept this faith whole and inviolate, without doubt he shall eternally perish."




+ Carlo Maria Viganò, Archbishop
9 June 2020
Saint Ephrem


_______________________________
Translated by Giuseppe Pellegrino
Published in Remnant Articles



Printable PDF Version
Comments? Write us: editor@boston-catholic-journal.com
---
TIRED OF IT?

Virtually EVERY CATHOLIC WEBSITE You Visit

ASKS FOR YOUR MONEY
$


DONATE!
Give us your money!


You will find GOALS never reached, or if reached, new and greater GOALS are set!
You can NEVER give them enough money!
You will find bar graphs illustrating how short they are of their goals. Tomorrow another bar graph will show the gap closing. The following day yet another graph will appear indicating the goal almost reached!
"We need you"

"Without your help"

"Without your generous support"!

"Donate"

"Donate now!"

"Your help is crucial"

"Show your support"

"All that we do will fail without your support!".

What is incomprehensible for a Catholic site is that the

button never disappears and is given a place of prominence — lest you overlook it. It is an emblem of insatiability. "With more of your money, we can ..." What?
Did Christ not say, "Gratis accepistis, gratis date. — Freely have you received, freely give." (Saint Matthew 10.8)? Every good thing we have is from God (Saint James 1.17). Will we sell what is given to us? Make a living off Christ?*
There are few conditionals, few "ifs", as in, "if you would like to support us ..." That, however, in a marketer's mind, leaves wiggle room and there should be as little of that as possible between your credit card and the "submit" button.
There are two implications here: The first is that what they are doing does not depend on CHRIST — but on YOU. Even more clever is the implicit suggestion that it really is Christ reaching into your wallet or pocketbook — through them! "Would you deny Him?" is the barely-suppressed insinuation. If they really depended entirely on Christ, there would be no such devices, but an honest "if you would like to support us" followed by some clarity as to why you should even consider it, and much more to the point, where your money is going:
Is it paying salaries? Enumerate them, starting with the president. Is it for covering traveling expenses? If so, is it First Class? Business? Economy? Is it for renting an office? How much? Why in that location? Is there a less expensive floor? For overhead? In what form, precisely? Give us numbers — and we may give you money. "We need your generous support" simply does not cut it.
The next is predatory in nature: it preys upon our sense of guilt at receiving (news, opinion, nonsense, whatever) without giving. Catholics are particularly susceptible to this. Are you an ingrate?
"A FEW GOOD SITES"
There are, in fact, a few good Catholic sites that actually and justifiably require more capital in the form of video, guests (travel and lodging), and investigative reporting. We need these sites.
But not every site that presents itself as "Catholic" with a "Donate now" button because "Your help is crucial" ... is crucial, or even worthy of your consideration.
Give to the poor (and in such a way that they will consider your gift to them, their gift to you. Which it is. Or better yet — without their even knowing it.)

Sinners that we are at the Boston Catholic Journal — this insignificant site in the world of Catholic media — we only wish to give you Christ — and the Mind of the Church. Keep your money. We want your immortal soul — for Christ.
________________________________
* http://www.boston-catholic-journal.com/professional-catholics-and-catholicism-as-a-living.htm
Geoffrey K. Mondello
Editor
Boston Catholic Journal
July 3, 2020


Printable PDF Version
Comments? Write us: editor@boston-catholic-journal.com
---
PESTICIDE FOR

WHITE CATHOLIC VERMIN
$100,000+ CEO of Catholic Charities



No. This man is not a pesticide worker who did not have the courtesy to take his hat off while indoors as he explains to you that what is ruining your house, your life, and your existence is far more insidious than rodents, roaches, and a host of other vermin.

He is explaining that YOU are the vermin

Why? Because you are "white" — and because you are Catholic — eo ipso you are a racist and cannot be otherwise.
I'll bet you never knew that.

He is Rob McCann, President and CEO of Catholic Charities (who makes over $100,000 from your charitable donations) Eastern Washington, and he wishes to inform you that you — not being "a person-of-color" — (which, by the way, would make you invisible ) — are genetically racist, or as he elegantly puts it, "saying that I am not a racist because I'm white is like saying a fish is not wet." Brilliant.

This apparently congenital moron is the man you give your money to at Mass when the collection is for promoting vile causes such as racism, oppressing "people-of-color", supporting a racist institution called the Catholic Church, oppressing the masses, and a host of other evils for which invisible people are responsible.


"Black Lives Matter ... in its purest non-violent form it is a Christ-like movement" (!)
Bet you didn't know that either.
Poor Rob is a Catholic (CEO) ... and, as we see below, a racist. Therefore all Catholics are racists. Impeccable reasoning:

"I am a racist. For me, saying that I am not a racist because I'm white is like saying a fish is not wet. My Catholic Church and my Catholic Charities organization is racist. Our Catholic Faith tradition is built ...on a premise [an idea or theory — not Divine Revelation — editor] that a baby, born in the Middle East was a white baby. Catholic Charities supports Black Lives Matter ... in its purest non-violent form it is a Christ-like movement …" He then pleads with us, as to "non-white" gods "of color": "please forgive us our trespasses" and "please embrace us!" *

Should we call Rob out? After all, he takes home over a hundred grand from the donations YOU make to Catholic "Charities" ...
Or should we call this "the Rob's Prayer" — but alas, poor Rob is chromatically challenged: in fact, despite his apparent sizeable mass, he is invisible. Makes it hard getting the point across.
Geoffrey K. Mondello
Editor
Boston Catholic Journal
editor@boston-catholic-journal.com
June 27, 2020

Printable PDF Version
Comments? Write us: editor@boston-catholic-journal.com
________________________________
* https://www.lifesitenews.com/blogs/us-catholic-charity-ceo-catholic-church-is-racist-because-jesus-was-white

---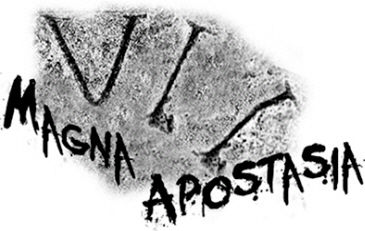 Vatican II:
the Great Apostasy

The

Myth called Ecumenism

---
STOP IT!
"God bless ..."
What on earth does this mean when someone says it?


We are, frankly, perplexed ourselves and hope that you, our readers, can help us. We have searched (without avail) for the reason that people truncate (cut off, leave incomplete) the utterance:

"God bless you"—

without adding

"you".

It is only three letters. Why, in your opinion, do people say, or sign correspondence with "God bless" rather than "God bless you"?

It is an incomplete utterance. "God bless" ... who or what? And why eliminate the "you" that is implicitly or presumably intended to follow it?

Let us look at a few examples to illustrate the point:

"God keep"
"God help"
"God prosper"
"God guide"
"God hear"

Would we not wait for the utterance to be completed with a pronoun (you, me, him, her, it)?

Some we have asked fully understand what is meant to follow the ellipsis ("God bless ..." which, of course, is "you") but still find it oddly dismissive or abrupt. To our surprise, however, most commonly, people see in it an attitude of spiritual laxity or even of spiritual arrogance. Others suggested that the person saying it simply thought it somehow implicitly "cool" to leave out the pronoun, resulting to something much more akin to a slogan.

Why is "YOU" Absent (no, that is not a grammatical error — I am not asking why you are absent)


The absence of "you" appears to diminish the importance of person: more precisely, the person to whom it is said, or to latently imply their spiritual inferiority (while emphasizing their own superiority) since it did not require so much as an acknowledgement of their "person". Others experience it as an "offhand" remark without any real substance, or as loosely spiritual in a very generalized context.

None of those questioned failed to understand that the words were, or that their implication was, at least in some diminished way, genuine: They understood it to imply "you". But if this is so, why not say it? It takes approximately 27/1000th of a second (.027 seconds, or 27 milliseconds) to add the "you" to a "God bless" and complete the utterance logically, grammatically, and most importantly, meaningfully.

So why do people deliberately omit the "you"?

Upon hearing the deliberately abbreviative "God bless", somehow the word insipid comes instantly to mind. Why bother saying it at all? Somehow it appears to confer a sense of benevolence on the part of the one one who utters it (after all, they are blessing us ... kind of ...); and we are the perceived recipients of their benevolence. Why save all 27 milliseconds ...?

Say it coherently or do not say it it at all!

Let us know your thoughts. We will publish them if they are to the point.


Geoffrey K. Mondello
Editor
Boston Catholic Journal
editor@boston-catholic-journal.com
June 9, 2020
---

GENDER WARS
the loss of Masculinity, Femininity — and ultimately our Humanity
There is something as conspicuously absent in as many MEN today as there is something extraordinarily absent in many women — and both pertain to a privation — in this case a self-inflicted evil (the privation of any good is, by definition, always an evil) that occurred through an aberrant socio-ideological permutation:


• Manly men

• Womanly women


It is the ideological repudiation of unmitigated gender.

What do I mean? The clear (readily apprehensible) distinction between men and women, both in behavior, appearance, and expectations, has radically diminished in the present generation; in fact, by a very clear agendum — a political and social correctitude foisted upon us by the liberal apparat — the distinction has become so attenuated in some circles as to have become permeable. This is particularly true in academia, and exceptionally true in the Church.

Before the priest-pedophile scandal — the epicenter of which was here, in Boston — it was not uncommon to find a parish priest with all the effeminate mannerisms, vocal inflections, and physical sashaying associated with "liberated/outed" homosexuals. The excessively affected hand gestures more typical of a woman than a man, the lisping speech and delicate affectations did little to conceal his being homosexual. We all knew it. And we "correctly" said nothing … until he raped our little boys and scores of other boys. It was only when the secular law took the moral high-ground (to the damnable shame of the bishops) that we recognized our own complicity in it by giving the "gay" priest a pass through overlooking the obvious.


The Cross and Dressing … or Cross-Dressing?
Men have become increasingly feminized and submissive and women have become increasingly masculinized and dominant. Effeminate men and butch women. How did this happen? And how did it manage even to pervade the Church despite three millennia of unequivocal teaching explicitly prohibiting it?


Thou shalt
not Cross-Dress
God Himself is quite clear about this:
"A woman shall not be clothed with man's apparel, neither shall a man use woman' s apparel: for he that doeth these things is abominable before God." (Deuteronomy 22:5)

---
Speed Praying: Saying as much in as Little Time Possible

You have heard it at every Mass

Indeed, it is very likely that you do it yourself.

It is even more likely that you do it praying the Holy Rosary.

Let us take one very, very, common example: The Apostles Creed:
"I-believe-in-God-the-Father-Almighty-Creator-of-Heaven-and-earth-
and-in-Jesus Christ-His-only-Son-Our Lord-Who-was-conceived-by-
the-Holy-Spirit-born-of the-Virgin-Mary-suffered-under-Pontius-Pilate
-was-crucified-died-and-was-buried-He-descended-into-Hell-the-third-
day-He-rose-again-from-the-dead-He-ascended-into-Heaven-and-sitteth
-at-the-righ-hand-of-God-the-Father-almighty-from-thence-He-shall-
come-to-judge-the-living-and-the-dead-I-believe-in-the-Holy-Spirit-the-
holy-Catholic-Church-the-Communion-of-Saints-the-forgiveness-of-
sins-the-resurrection-of-the-body-and-life-everlasting-Amen."


All spoken as one sentence as quickly as possible — to get through it.

Worse still is the prayer to the very Mother of God, Mary Most Holy, ESPECIALLY as it is "recited" — rather than "prayed" in that beautiful prayer called the Angelic Salutation, but better known simply as the Hail Mary:

"HailMaryfullofgracetheLordiswiththeeblessedartthouamongstwomen
andblessedisthefruitofthywombJesusHolyMaryMotherofGodprayforus
sinnersnowandatthehourofourdeathAmen."

Within 14 seconds flat! … and ten times between each sacred Mystery!

REALLY?

---
When the Shepherd Strikes the Sheep
"It is written: I will strike the shepherd, and the sheep of the flock shall be scattered." (Saint Matthew 26.31)
"I will strike the shepherd, and the sheep of the flock shall be scattered."1 We have often heard this. It pertains to the imminent Passion of Jesus Christ on the very night before He was betrayed into the hands of sinful men. He, the Good Shepherd, would be struck (in fact, repeatedly ...) and the Apostles, the Disciples, and the Faithful would be scattered — they would abandon Him, flee for their lives, and their unity in Him would be broken. Their Shepherd, in Whose fold they were one flock, had been struck! What the will become of the sheep? How much anxiety rends them!

But now, in some incomprehensible and ghastly apocalyptic narrative unfolding before our very eyes, the shepherd himself strikes the sheep — and they are scattered! Unfaithful to his trust and careless of the sheep entrusted to him, the shepherd not only abandons them to the wolves who have prowled the fences for 500 years … but he himself strikes them so that they are forced to leave the sheepfold; with his staff he strikes the necks and the backs of the defenseless sheep — not even sparing the Little Lambs — who cry out in their pain as they flee, seeking a fold where they will find pasture and protection. They are confused and frightened, and no other shepherd seems to have the courage to gather the lost and the scattered — not one other shepherd! Homeless and shelterless they are prey to wolves — wolves even more remorseless than the wolves who drove them from the sheepfold.

_________________________
Further Reading on the Papacy of Francis:
---
The REAL Goal

of the LGBT Movement is DIABOLICAL: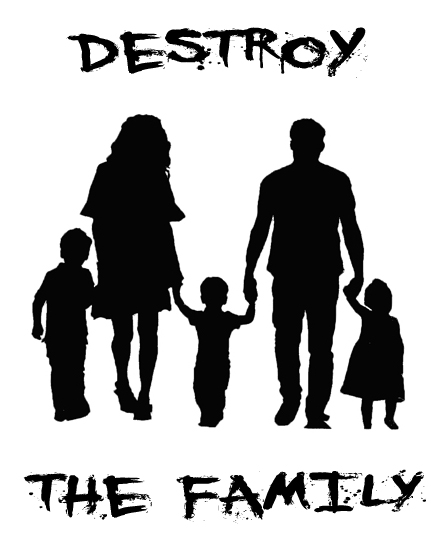 Why?
Just as Satan cannot create, but only mimic, imitate, in the LGBT Movement we find his (Satan's) effort to contrive a spurious — a completely counterfeit and totally perverse mockery — of the genuine family. It is a diabolical attempt to pass off what is a fiction for what is real — with the willing collaboration of a profoundly sexually and militantly perverse community.
But there is an impediment to this epic exploit in Western culture as it devolves into de-civilization and debauchery: the family.
As long as the nuclear family of husband, wife and children still remains intact, it is an indictment of the sterile sexual perversity that the LGBT fascists embrace and promote. It stands as an unassailable reproach to the counterfeit, for it is genuinely procreative and naturally perpetuates itself — as every other species has from the dawn of creation.

The Face
And the Offspring
of Vatican II
Look carefully at this emblematic vision of Vatican II in the Pope Paul VI Audience Hall.
It is, for want of any other aesthetic description, demonic and blasphemous, hideous and frightening — a sign of times to come — that are now here.
60 Years After its Defection from Catholicism


and its Conversion to the World
Hideous — is it not?
It has not changed much — apart from its growing defection from what the Holy Catholic Church taught for 2000 years before that most pernicious council.
It is increasingly elderly, gray, and disheveled. Its children — fewer and fewer every year — are largely the children of the world, checking off the boxes branded on their young minds by a perverse generation that has lost its Catholic Faith and Identity: for Abortion (yes), Homosexuality (yes), Lesbianism (yes), Transgenderism (yes), Gender Identity Choices (yes), Gender Re-assignment (yes), Euthanasia (yes), Cremation (yes), Pre-Marital Sex (yes), Co-Habitation (yes), "Social Justice" Issues (yes!) — the proper formation of a Catholic Conscience (NO!), Chastity (NO!) Virginity until Marriage (NO!) Sanctity (NO), learning the most fundamental aspects of the Catholic Religion into which they were summarily Baptized (NO!) the Priesthood (NO!), Religious Life (NO!) — Missionary zeal and the conversion of sinners and those who do not know Christ — which Francis (perhaps heretically) calls "solemn nonsense." (NO!) When they look about them at their fellow "Catholics" and" Priests", "Nuns" and "Religious" — even the papacy of Francis and the current Episcopacy (bishops and cardinals) — who can blame them? The Faith is not even authentically lived out by the highest prelates — and sadly enough by Francis himself who gives scandal on a routine basis.


---
ROMAN MARTYROLOGY

Wednesday July 8th in the Year of Grace
Time after Pentecost

This Day, the Eighth Day of July

St. Elizabeth, widow, queen of Portugal. Being renowned for virtues and miracles, she was numbered among the saints by Urban VIII.

In Asia Minor, the Saints Aquila and his wife Priscilla, of whom mention is made in the Acts of the Apostles.

At Porto, fifty holy soldiers, martyrs, who were led to the faith by the martyrdom of St. Bonosa, and baptized by the blessed Pope Felix. They were put to death in the persecution of Aurelian.

In Palestine, in the reign of Diocletian, St. Procopius, martyr, who was brought from Scythopolis to Caesarea, and upon his first resolute answer was beheaded by the judge Fabian.

At Constantinople, the holy Abrahamite monks, who resisted the emperor Theophilus by defending the worship of holy images, and suffered matryrdom.

At Wurtzburg, in Germany, St. Kilian, bishop, who was commissioned by the Roman Pontiff to preach the Gospel. After having converted many to Christ, he was put to death with his companions, Colman, a priest, and Totnan, a deacon.

At Rome, the blessed Eugenius II, Pope. Having gained a great reputation for sanctity and prudence in his government of the monastery of Saints Vincent and Anastasius, he was raised to the Sovereign Pontificate and ruled over the universal Church with much holiness. Pope Pius IX approved and confirmed the veneration paid to him.

At Treves, St. Auspicius, bishop and confessor.
At Spina Lamberti in Emília, Pope St. Adrian III, famous for his zeal in reconciling the Eastern to the Roman Church, and renowned for his miracles. His body was taken to the monastery of Nonantola and buried with honors in the Church of St. Sylvester.

And elsewhere in divers places, many other holy martyrs, confessors, and holy virgins.


Omnes sancti Mártyres, oráte pro nobis. ("All ye Holy Martyrs, pray for us", from the Litaniae Sanctorum, the Litany of the Saints)
Response: Thanks be to God.

V2 = Enrolled prior to Vatican II and deleted after Vatican II
---

Roman Martyrology by Month
---


Why the Martyrs Matter


Each day we bring you a calendar, a list really, of the holy Martyrs who had suffered and died for Christ, for His Bride the Church, and for our holy Catholic Faith; men and women for whom — and well they knew — their Profession of Faith would cost them their lives.

They could have repudiated all three (Christ, Church, and Catholic Faith) and kept their lives for a short time longer (even the lapsi only postponed their death — and at so great a cost!).1

What would motivate men, women, even children and entire families to willingly undergo the most evil and painfully devised tortures; to suffer death rather than denial?

Why did they not renounce their Catholic Faith when the first flame licked at their feet, after the first eye was plucked out, or after they were "baptized" in mockery by boiling water or molten lead poured over their heads? Why did they not flee to offer incense to the pagan gods since such a ritual concession would be merely perfunctory, having been done, after all, under duress, exacted by the compulsion of the state? What is a little burned incense and a few words uttered without conviction, compared to your own life and the lives of those you love? Surely God knows that you are merely placating the state with empty gestures …

Did they love their wives, husbands, children — their mothers, fathers and friends less than we do? Did they value their own lives less? Were they less sensitive to pain than we are? In a word, what did they possess that we do not?

Nothing. They possessed what we ourselves are given in the Sacrament of Confirmation — but cleaved to it in far greater measure than we do: Faith and faithfulness; fortitude and valor, uncompromising belief in the invincible reality of God, of life eternal in Him for the faithful, of damnation everlasting apart from Him for the unfaithful; of the ephemerality of this passing world and all within it, and lives lived in total accord with that adamant belief.

We are the Martyrs to come. What made them so will make us so. What they suffered we will suffer. What they died for, we will die for. If only we will! For most us, life will be a bloodless martyrdom, a suffering for Christ, for the sake of Christ, for the sake of the Church in a thousand ways outside the arena. The road to Heaven is lined on both sides with Crosses, and upon the Crosses people, people who suffered unknown to the world, but known to God. Catholics living in partibus infidelium, under the scourge of Islam. Loveless marriages. Injustices on all sides. Poverty. Illness. Old age. Dependency. They are the cruciform! Those whose lives became Crosses because they would not flee God, the Church, the call to, the demand for, holiness in the most ordinary things of life made extraordinary through the grace of God. The Martyrology we celebrate each day is just a vignette, a small, immeasurably small, sampling of the martyrdom that has been the lives of countless men and women whom Christ and the Angels know, but whom the world does not know.

"Exemplum enim dedi vobis", Christ said to His Apostles: "I have given you an example." And His Martyrs give one to us — and that is why the Martyrs matter.


Geoffrey K. Mondello
Editor
editor@boston-catholic-journal.com
Boston Catholic Journal


Note: We suggest that you explore our newly edited and revised "De SS. Martyrum Cruciatibus — The Torments and Tortures of the Christian Martyrs" for an in-depth historical account of the sufferings of the Martyrs.
---


INTRODUCTION TO THE ROMAN MARTYROLOGY

By J. Cardinal Gibbons, Archbishop Baltimore


THE ROMAN MARTYROLOGY is an official and accredited record, on the pages of which are set forth in simple and brief, but impressive words, the glorious deeds of the Soldiers of Christ in all ages of the Church; of the illustrious Heroes and Heroines of the Cross, whom her solemn verdict has beatified or canonized. In making up this long roll of honor, the Church has been actuated by that instinctive wisdom with which the Spirit of God, who abides in her and teaches her all truth, has endowed her, and which permeates through and guides all her actions. She is the Spouse of Christ, without spot or wrinkle or blemish, wholly glorious and undefiled, whom He loved, for whom He died, and to whom He promised the Spirit of Truth, to comfort her in her dreary pilgrimage through this valley of tears, and to abide with her forever. She is one with Him in Spirit and in love, she is subject to Him in all things; she loves what He loves, she teaches and practices what He commands.

If the world has its "Legions of Honor", why should not also the Church of the Living God, the pillar and the ground of the truth? If men who have been stained with blood, and women who have been tainted with vice, have had their memory consecrated in prose and in verse, and monuments erected to their memory, because they exhibited extraordinary talents, achieved great success, or were, to a greater or less extent, benefactors of their race in the temporal order, which passeth away, why should not the true Heroes and Heroines of Jesus, who, imitating His example, have overcome themselves, risen superior to and trampled upon the world, have aspired, in all their thoughts, words, and actions, to a heavenly crown, and have moreover labored with disinterested zeal and self-forgetting love for the good of their fellow-men, have their memories likewise consecrated and embalmed in the minds and hearts of the people of God? If time have its heroes, why should not eternity; if man, why should not God? "Thy friends, O Lord, are exceedingly honored; their principality is exceedingly exalted." Whom His Father so dearly loved, the world crucified; whom the world neglects, despises, and crucifies, God, through His Church, exceedingly honors and exalts. Their praises are sung forth, with jubilation of heart, in the Church of God for ages on ages.

The wisdom of the Church of God in honoring her Saints is equaled only by the great utility of the practice thus consecrated. The Saints are not merely heroes; they are models. Christ lived in them, and Christ yet speaks through them. They were the living temples of the Holy Ghost, in whose mortal bodies dwelt all the riches of His wisdom and grace. They were in life consecrated human exemplars of divine excellence and perfection. Their example still appeals to our minds and to our hearts, more eloquently even than did their words to the men of their own generation, while they were in the tabernacle of the flesh. Though dead, they still speak. Their relics are instinct with sanctity, and through them they continue to breathe forth the sweet odor of Christ. The immortality into which they have entered still lingers in their bones, and seems to breathe in their mortal remains. As many an ardent, spirit has been induced to rush to the cannon's mouth by reading the exploits of earthly heroes, so many a generous Christian soul has been fired with heavenly ardor, and been impelled to rush to the crown of martyrdom, by reading the lives and heroic achievements of the Saints and Martyrs of Christ. Example, in its silent appeal, is more potent in its influence on the human heart and conduct than are words in their most eloquent utterances.
The Church knows and feels all this, in the Spirit of God with whom she is replenished ; and hence she sets forth, with holy joy and exultant hope, her bright and ever-increasing Calendar of Sanctity of just men and women made perfect and rendered glorious, under her unearthly and sublime teachings. In reading this roll of consecrated holiness, our instinctive conclusion is, precisely that which the great soul of St. Augustine reached at the very crisis of his life, the moment of his conversion "If other men like me have attained to such sanctity, why not I? Shall the poor, the afflicted, the despised of the World, bear away the palm of victory, the crown of immortality, while I lie buried in my sloth and dead in my sins, and thus lose the brilliant and glorious mansion already prepared for me in heaven? Shall all the gifts, which God has lavished upon me, be ingloriously spent and foolishly wasted, in the petty contest for this world's evanescent honors and riches, while the poor and contemned lay up treasures in heaven, and secure the prize of immortal glory? Shall others be the friends of God, whom He delights to honor, while I alone remain His enemy, and an alien from His blessed Kingdom?"

It is a consoling evidence of progress in the spiritual life in this country to find the Martyrology here published, for the first time, in English, and thereby made accessible, in its rich treasures of Sanctity, to all classes of our population. It will prove highly edifying and useful, not only to the members of our numerous religious Communities of both sexes, but also to the laity generally. Every day has here its record of Sanctity; and there is scarcely a Christian, no matter how lowly or how much occupied, who may not be able to daily peruse, with faith and with great profit, the brief page of each day's models of Holiness. These belong to all classes and callings of life; from the throne to the hovel, from the Pontiff to the lowest cleric, from the philosopher to the peasant, from the busy walks of life to the dreary wastes of the desert.

Let all, then, procure and read daily the appropriate portions of this Martyrology. Its daily and pious perusal will console us in affliction, will animate us in despondency, will make our souls glow with the love of God in coldness, and will lift up our minds and hearts from this dull and ever-changing earth to the bright and everlasting mansions prepared for us in Heaven!

Imprimatur, J. Cardinal Gibbons, Archbishop Baltimore, Maryland 1916
Printable PDF Version


---



THE APOSTOLIC CONSTITUTION

"

QUO PRIMUM "

(and what "Forever" really means)



"From the very first, upon Our elevation to the chief Apostleship, We gladly turned our mind and energies and directed all out thoughts to those matters which concerned the preservation of a pure liturgy, and We strove with God's help, by every means in our power, to accomplish this purpose. For, besides other decrees of the sacred Council of Trent, there were stipulations for Us to revise and re-edit the sacred books: the Catechism, the Missal and the Breviary. With the Catechism published for the instruction of the faithful, by God's help, and the Breviary thoroughly revised for the worthy praise of God, in order that the Missal and Breviary may be in perfect harmony, as fitting and proper — for it is most becoming that there be in the Church only one appropriate manner of reciting the Psalms and only one rite for the celebration of Mass — We deemed it necessary to give our immediate attention to what still remained to be done, viz, the re-editing of the Missal as soon as possible.

Hence, We decided to entrust this work to learned men of our selection. They very carefully collated all their work with the ancient codices in Our Vatican Library and with reliable, preserved or emended codices from elsewhere. Besides this, these men consulted the works of ancient and approved authors concerning the same sacred rites; and thus they have restored the Missal itself to the original form and rite of the holy Fathers. When this work has been gone over numerous times and further emended, after serious study and reflection, We commanded that the finished product be printed and published as soon as possible, so that all might enjoy the fruits of this labor; and thus, priests would know which prayers to use and which rites and ceremonies they were required to observe from now on in the celebration of Masses.

Let all everywhere adopt and observe what has been handed down by the Holy Roman Church, the Mother and Teacher of the other churches, and let Masses not be sung or read according to any other formula than that of this Missal published by Us. This ordinance applies henceforth, now, and forever, throughout all the provinces of the Christian world, to all patriarchs, cathedral churches, collegiate and parish churches, be they secular or religious, both of men and of women — even of military orders — and of churches or chapels without a specific congregation in which conventual Masses are sung aloud in choir or read privately in accord with the rites and customs of the Roman Church. This Missal is to be used by all churches, even by those which in their authorization are made exempt, whether by Apostolic indult, custom, or privilege, or even if by oath or official confirmation of the Holy See, or have their rights and faculties guaranteed to them by any other manner whatsoever.

This new rite alone is to be used unless approval of the practice of saying Mass differently was given at the very time of the institution and confirmation of the church by Apostolic See at least 200 years ago, or unless there has prevailed a custom of a similar kind which has been continuously followed for a period of not less than 200 years, in which most cases We in no wise rescind their above-mentioned prerogative or custom. However, if this Missal, which we have seen fit to publish, be more agreeable to these latter, We grant them permission to celebrate Mass according to its rite, provided they have the consent of their bishop or prelate or of their whole Chapter, everything else to the contrary notwithstanding.

All other of the churches referred to above, however, are hereby denied the use of other missals, which are to be discontinued entirely and absolutely; whereas, by this present Constitution, which will be valid henceforth, now, and forever, We order and enjoin that nothing must be added to Our recently published Missal, nothing omitted from it, nor anything whatsoever be changed within it under the penalty of Our displeasure.

We specifically command each and every patriarch, administrator, and all other persons or whatever ecclesiastical dignity they may be, be they even cardinals of the Holy Roman Church, or possessed of any other rank or pre-eminence, and We order them in virtue of holy obedience to chant or to read the Mass according to the rite and manner and norm herewith laid down by Us and, hereafter, to discontinue and completely discard all other rubrics and rites of other missals, however ancient, which they have customarily followed; and they must not in celebrating Mass presume to introduce any ceremonies or recite any prayers other than those contained in this Missal.

Furthermore, by these presents [this law], in virtue of Our Apostolic authority, We grant and concede in perpetuity that, for the chanting or reading of the Mass in any church whatsoever, this Missal is hereafter to be followed absolutely, without any scruple of conscience or fear of incurring any penalty, judgment, or censure, and may freely and lawfully be used. Nor are superiors, administrators, canons, chaplains, and other secular priests, or religious, of whatever title designated, obliged to celebrate the Mass otherwise than as enjoined by Us. We likewise declare and ordain that no one whosoever is forced or coerced to alter this Missal, and that this present document cannot be revoked or modified, but remains always valid and retain its full force notwithstanding the previous constitutions and decrees of the Holy See, as well as any general or special constitutions or edicts of provincial or synodal councils, and notwithstanding the practice and custom of the aforesaid churches, established by long and immemorial prescription — except, however, if more than two hundred years' standing.

It is Our will, therefore, and by the same authority, We decree that, after We publish this constitution and the edition of the Missal, the priests of the Roman Curia are, after thirty days, obliged to chant or read the Mass according to it; all others south of the Alps, after three months; and those beyond the Alps either within six months or whenever the Missal is available for sale. Wherefore, in order that the Missal be preserved incorrupt throughout the whole world and kept free of flaws and errors, the penalty for nonobservance for printers, whether mediately or immediately subject to Our dominion, and that of the Holy Roman Church, will be the forfeiting of their books and a fine of one hundred gold ducats, payable ipso facto to the Apostolic Treasury. Further, as for those located in other parts of the world, the penalty is excommunication latae sententiae, and such other penalties as may in Our judgment be imposed; and We decree by this law that they must not dare or presume either to print or to publish or to sell, or in any way to accept books of this nature without Our approval and consent, or without the express consent of the Apostolic Commissaries of those places, who will be appointed by Us. Said printer must receive a standard Missal and agree faithfully with it and in no wise vary from the Roman Missal of the large type (secundum magnum impressionem).

Accordingly, since it would be difficult for this present pronouncement to be sent to all parts of the Christian world and simultaneously come to light everywhere, We direct that it be, as usual, posted and published at the doors of the Basilica of the Prince of the Apostles, also at the Apostolic Chancery, and on the street at Campo Flora; furthermore, We direct that printed copies of this same edict signed by a notary public and made official by an ecclesiastical dignitary possess the same indubitable validity everywhere and in every nation, as if Our manuscript were shown there. Therefore, no one whosoever is permitted to alter this notice of Our permission, statute, ordinance, command, precept, grant, indult, declaration, will, decree, and prohibition. Should anyone dare to contravene it, know that he will incur the wrath of Almighty God and of the Blessed Apostles Peter and Paul."


Given at St. Peter's in the year of the Lord's Incarnation, 1570, on the 14th of July of the Fifth year of Our Pontificate.



Printable PDF Version



---