The Oder of Sulfur, not Sanctity: the Smoke of Satan in the Sanctuary: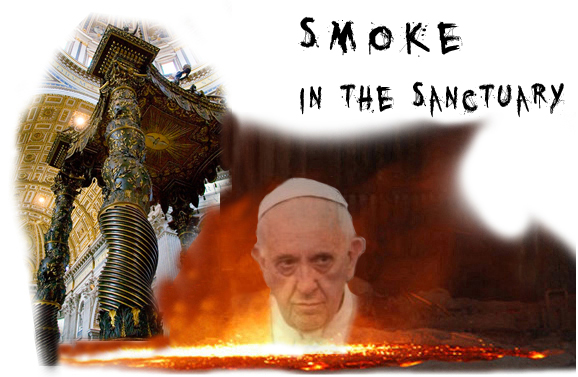 The Odor of Sulfur ... not Sanctity
Who has not smelled it?

Who is not confused? In the face of daily assaults on 2000 years of the consistent teaching of the Church, on the very Deposit of Faith, and on the validity of Sacred Scripture itself what Catholic has not asked — in the fearfully deep and most secret recesses of his soul — the question "Whence?" From whom and from what comes this relentless scourging of faith — this overwhelming defection from all that is holy to all that is vile?
"There is smoke in the sanctuary" and instinctively we perceive it, recoil from it. It is proffered as incense but is pungent to our senses — as the fume of smoldering sulfur.
We are confused between the Word of God become Man and the word of man become god.
What a fearful divide rends the Body of Christ anew! See how the sheep are scattered! Need we tell you who is the father of confusion and lies ...?
Imagine ... the pope himself as the principle cause of confusion — and defection — in the Catholic Church. It is nothing less than ... diabolically clever.
Pray for Pope Francis whom satan has sought to sift like wheat. 1 And sadly, it would appear, to great measure ...
But take heart, despite these present evils: "When Jesus saw the crowds, He had compassion on them because they were confused and helpless, like sheep without a shepherd." (Saint Matthew 9.36)
But Jesus Himself is the Good Shepherd. "
The sheep follow Him, because they know His voice. But a stranger they follow not, but fly from him, because they know not the voice of strangers.
"
(Saint John 10:4-5)
Hold fast to the Faith of our Fathers! Cleave to Christ and to what He has spoken — and fear nothing, and no one — no matter his power or how ruthlessly it demands submission. "
For there is no other name under Heaven given to men, whereby we must be saved.
"
(Acts 4.12)
Did not Christ Himself promise: "I will not forsake you." (Saint John 14.18)?
Nor must we ever forsake Him through any inducement to sin — by whomsoever.
________________________
1 Saint Luke 22.31
Editor
Boston Catholic Journal
September 19, 2017

Printable PDF Version
Comments? Write us: editor@boston-catholic-journal.com